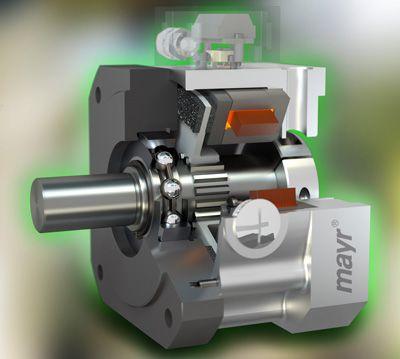 Hannover Messe Hall 25, Stand D28
No one would come up with the idea in the car at full speed the handbrake on. To delay the car specifically, the driver uses the brake pedal. Even with equipment- and machine applications with dynamic braking a dose, even lag is often desirable. With the new intelligent braking torque control module of
Mayr Antriebstechnik
can be delayed until evenly and gently equipment and machinery. The module is suitable for use in smart, networked machine.
Since spring applied brakes by design other than vehicle brakes only two operating states know "braking torque is" and "braking torque canceled", each brake is applied with the maximum available braking torque. The drive provides specialist with the intelligent braking torque control module an economically attractive solution for "
Roba-stop "spring-applied brakes
to generate a variable braking torque and thus to delay machines evenly and smoothly.
For devices with varying loading as industrial trucks, the brake is dimensioned so far based on the maximum capacity. However, it does not always make sense to work with the full braking torque. So with half loads, a greater deceleration damage of the cargo or even slipping of the wheels. Captures the system operating states and converts it into a signal set for the switching device, an electronic braking torque control is possible. The system allows the contact pressure on the brake linings and therefore the brake torque change continuously during operation. In addition, may compensate for the braking torque control negative influences on the brake torque stability at applications that require a constant braking torque in tight tolerance limits.
The intelligent control unit is operated with 24 48 or VDC and can drive brakes with a rated coil current of 10 5 A and A. About two digital inputs, the resulting clamping force for the brake rotor on 25, 50 or 75% of the nominal spring force can be specified. Alternatively, a continuously variable analog signal set of 0 10 to V is possible. Sensorless determines the switching device, whether the armature plate is energized or de-energized. This can be either the overexcitation time automatically adjust. The fact that the intelligent control unit detects the switching state of the brake, no usual micro switches or proximity sensors are needed. The device includes also possible to wear Reserve and recognize where appropriate, excessive heating.
---
Another contribution of the manufacturer
This e-mail address is being protected from spambots To display JavaScript must be turned on!