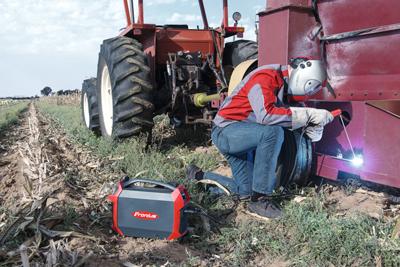 cover story
Tractors, combine harvesters or seed drills are supplied daily with wind, weather and dirt. Damage or signs of wear are inevitable and often need to be repaired directly on the field, often with a variety of challenges. Reliable, portable and versatile welding systems are an important support in this case. Fronius offers several devices for these challenges.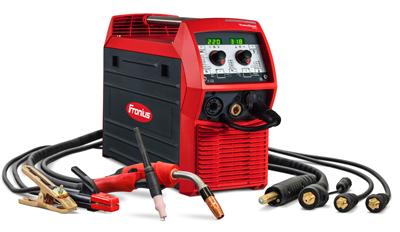 Welding a clean seam in a protected room with a stable power supply requires a lot of practice. However, in order to be able to maintain or repair even under more adverse circumstances - be it the lack of electricity access, rough terrain or the welding task itself - welding equipment must fulfill special criteria. Fronius offers several devices that are easy to use, robust, powerful and mobile at the same time: for example "Transsteel", "Transpocket" and "Accupocket".
All three welding power sources can be operated intuitively and, thanks to digital control, enable a stable arc and reproducible welding results. The underlying software can be updated via updates, allowing users to benefit from new or enhanced welding processes without having to invest in a new device. Splash protection (IP23 protection) and longevity are other benefits offered by this series. The manufacturer tests the durability of its devices in endurance tests whose requirements go far beyond the standards.
Ready to use everywhere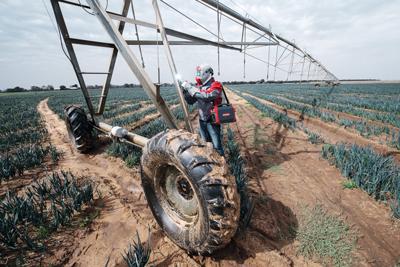 Especially when it comes to mobile and flexible welding applications, the E-Hand and TIG devices Transpocket and Accupocket are used: The Accupocket is suitable for mobile applications: only 11 kg weighs the system including lithium-ion battery. In battery mode, the required energy is drawn exclusively from the battery. Fully charged, the welding machine can weld up to eight 3,25 mm electrodes or 18 electrodes with 2,5 mm diameter. The hybrid mode allows simultaneous access to battery and power supply via mains or generator. Here, the power reserves of the battery compensate for voltage fluctuations and prevent the fall of the mains fuse in case of overvoltage. The electricity can also be obtained exclusively via the grid. Due to the low power consumption, a much smaller current transformer with 2 is sufficient instead of 8 kVA.
If, like the particularly robust Transpocket, there is no battery for voltage compensation, PFC (power factor correction) technology is used. It uses existing network power efficiently and avoids reactive power. To do this, an automated power factor correction models the input current to have a nearly ideal sinusoidal shape. This technology guarantees a stable arc by compensating for voltage fluctuations. Such fluctuations can occur, for example, in generator operation, for which the single-phase welding devices are designed.
Both welding power sources have features such as soft start, hotstart and anti-stick. These stabilize the arc, facilitate the ignition and prevent the annealing of the electrode. The technician in the mobile service, these programs help to produce a high quality welding result.
MIG / MAG, TIG and E-hand welding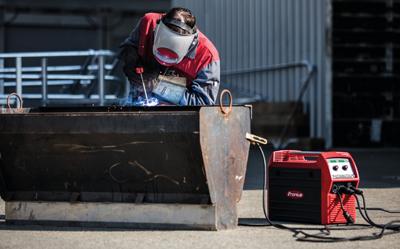 Multiprocess devices such as the Transsteel, with which MIG / MAG, TIG and E-hand welding can be used, are suitable for a wide range of welding tasks. A big plus of the single-phase power source is the variety of characteristics, including aluminum and copper-silicon alloys. The Transsteel also has a second gas solenoid valve, which simplifies the process change from MIG / MAG to TIG. It is also easy to use - in just three steps, the user is ready to weld. He simply enters the additional material to be welded, the wire diameter and the gas used.
Other special features are the TAC function and puncture and interval welding. TAC helps to set stitching points: so that the two molten baths connect to one another, the pulsed arc sets them in motion. The function is also helpful when welding thin sheets without additional material. Also intended for joining thin sheets is the puncture and interval welding, since the heat input is lower here.
Regardless of the choice of welding power source - they need to be brought to the job site. Fronius offers the appropriate "Case" tool not only for the device but also for the necessary accessories for professional use on site.
---
Another contribution of the manufacturer This e-mail address is being protected from spambots To display JavaScript must be turned on!
More news for mobile machines
Solids Hall 5, Stand K 22 The Schmersal Group is presenting the new Heavy Duty Switch (HDS) switchgear series. It was specially developed for the bulk goods industry. With this HDS, various functions have been integrated on one platform, making it suitable for a wide variety of applications. In addition, the platform has extensive international approvals such as UL, CE and CCC. Atex, EAC, Inmetro and IECEx are in preparation.

User report There are still mechanical engineering companies that manufacture their required components exclusively in Germany and are also profitable. Durwen Maschinenbau GmbH manages this because it has implemented a high degree of automation in its production. When manufacturing its attachments for forklift trucks, for example, the control of the CNC milling machines communicates directly with the handling robot from Mitsubishi Electric and does not require a master.

User report The largest machines that are currently digging underground on the construction site of the Semmering base tunnel are two tunnel boring machines. The EAS-HT safety coupling from Mayr power transmission is used to protect these heavyweights. These couplings trigger reliably and understandably and protect the drive components sustainably. They cannot be manipulated and the factory-set torque is available again even after disengagement. Recommissioning is also quick and easy, without additional tools.

Cover story Tractors, combine harvesters or seeders are supplied with wind, weather and dirt every day. Damage or signs of wear are therefore preprogrammed, often have to be repaired directly on the field and often with a variety of challenges. Reliable, mobile and versatile welding systems are an important support in this case. Fronius offers several devices for these challenges.

Altair announces the expansion of the Altair Partner Alliance (APA) with the highly developed visualization and real-time multibody simulation software "Vortex Studio Create" from CM Labs Simulations. The software is now available for use by Altair HyperWorks customers who can gain real-time insights for all device types with the virtual training environment.

SPS Hall 4A, Stand 125 Novotechnik has developed the position transducers of the new TM1 series for position detection directly in the pressure range of hydraulic or pneumatic cylinders. They reliably record the position and speed of mobile machines even in harsh environmental conditions with a resolution of 0,1 mm.

The magnetic angle sensors of the RFC-4800 series from Novotechnik are compact, easy to assemble and measure the angle of rotation over a full 360 degrees with a resolution of up to 14 bits. These contactless sensors are now also available for use in commercial vehicles with a CAN SAE J1939 interface.

Rodriguez offers part-turn actuators as ready-to-install modules with housings and seals as well as optional electric or hydraulic drives. In this way, users benefit from low installation and maintenance costs. The rotary actuators in three sizes can be individually adapted to special customer requirements and are immediately available from stock.

Cover story The next stage of development in agriculture is data-driven and requires robust sensor technology in the field. With its products, Turck enables the operation of intelligent driver assistance systems, the harbingers of fully autonomous work processes. With the steer-by-wire method, QR20 encoders measure the steering angle of axles or accompany the unfolding of the spray arms of a field sprayer. However, ultrasonic and tilt sensors are suitable for aligning the sprayer boom, while Banner Engineering's compact TM18 light barriers can monitor the material flow in the grain elevator of a combine harvester.
load More halt SHIFT to load everything load all