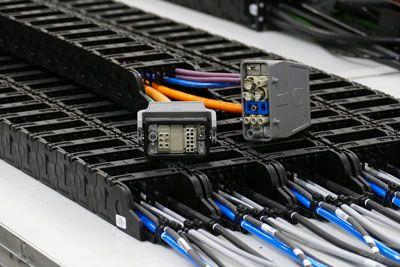 FMB Hall 20, booth C21
Success Story
SSI shepherd As a general contractor, he relies largely on standardized assemblies in order to optimize procurement processes, streamline internal logistics and reduce assembly and maintenance times. The intralogistics specialist relies on suppliers such as Harting and Igus, not only because both companies take the system thought into account.
For a supplier of high-performance storage and logistics systems, the operational safety and reliability of the components used has top priority. Failure or repair of the systems will have a direct negative impact on throughput. This is to be prevented as much as possible by adapted elements and standardized assemblies. In addition, the structures should be designed so that maintenance or repair takes as little time as possible.
Partnership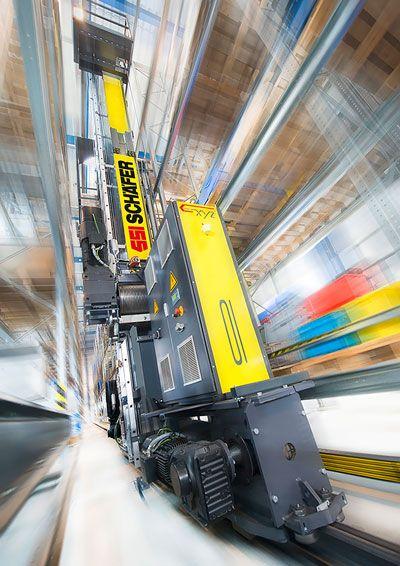 "We plan and design holistic intralogistics solutions precisely across all industries," explains Markus Sellen, Product Manager Storage Technology at SSI Schaefer. "As a global general contractor, we implement complex logistics systems, from system planning and consulting through to turnkey systems and tailor-made service and maintenance offerings. High-performance software solutions to cover all processes from warehouse management to material flow management round off our portfolio of services. "
In addition to flexibility and efficiency, this has the advantage for the customer that they only have one contact person for all questions relating to construction, installation and operation. "As a general contractor, we then bear full responsibility," explains Markus Sellen. "For this reason, we work only with suppliers who take into account the system concept and anticipate technical requirements in order to provide us with the appropriate solutions and further developments."
This is the special expertise of Harting and Igus. In the context of increasing modularity and the continuous demand for ever faster processes, it is important to provide suitable solutions that are optimally coordinated with each other.
Pre-assembled and ready for connection
Igus has been delivering prefabricated, ready-to-connect "products since 2012ReadyChain "-Energiezuführungen for the storage and retrieval system "Exyz" (RBG) of the logistics specialist. The Exyz is used for the fully automatic storage of pallets. It can be used in tropical conditions as well as in deep-freeze warehouses and, of course, also suitable for applications in standard, sewer, throughfeed and picking warehouses up to a height of 45 m. The name Exyz derives from efficiency (E) in terms of energy consumption and performance and this on all three working axes X, Y and Z of the camp, so for longitudinal travel, lifting and storage and retrieval movements.
Igus supplies the right system solution Readychain. It consists of an E2 / 000 E30 series energy chain with strain relief, fail-safe "Chainflex" control and data cables as well as bus and motor cables. If the RBG is used in the freezer area up to -5 ° C or in the fresh area up to + XNUMX ° C, the system solution with adapted "Han-Modular "Connectors range equipped by Harting.
"We have been relying on Igus energy supplies for many years," says Sebastian Leimeister, Team Manager for Storage Machinery Hardware at SSI Schaefer. "Before the introduction of the RBG Exyz, we assembled on our own. But for economic reasons, since 2012, we have been using only pre-assembled systems that only need to be installed at the respective construction site. And that's where a simple, fast and safe installation is required. "
Flexible solutions with a small footprint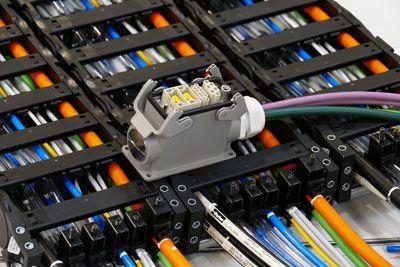 In order to ensure the availability of goods in the warehouse, the operational safety and reliability of the components used have the highest priority. The energy chain with the cables and the plug connector systems must endure heat and cold as well as the travel and lifting speeds up to 240 or 90 m / min. With this requirement profile, all project partners initially worked together on a perfect solution.
To exclude a chain or worst case line break, the "Guidelok" system was first installed. This system is a guide channel for vertical applications, which is used especially in storage and retrieval systems. "That was the breakthrough then," confirms Sebastian Leimeister. "With the development and installation of the trough for vertical movements, all tolerances could be met and thus the availability permanently ensured." Today, the successor model "Guidelok Slimline P" will be installed at SSI Schaefer. "The pre-tested system is individually packaged in a load carrier and delivered to the respective construction site. This then only has to be connected on site, "emphasizes Till Brinkmann, Igu's Product Manager Readychain + Readycable. "And that works fine because of the standardization."
Makes plug-and-play possible
In order to meet the most varied requirements of the plant in terms of the services or data to be transmitted, "Han "connector used by Harting. In coordination with Igus, the corresponding system cabling will then be customized and combined with the system modules. This enables a plug-and-play installation with the shortest possible set-up times. If the RBG is used in the cold store, only corrosion-resistant Han connectors are used in the cold area. In addition to standard inserts for signal and power transmission, special solutions for data communication via RJ45 interfaces are also used.
Especially the combination of different transmission media, if possible in a compact unit, is increasingly required in the industrial environment. This is possible, among other things, by using individual modules for different transmission media. Whether signals, data up to transmission rates of 10 G, powers up to 200 A per contact and also compressed air can be combined in industrial connector housings of different variants and standard sizes. With industrial connector solutions from Harting, such highly flexible interfaces with minimal space requirements and many functions are very easy to handle. "Thus, despite the specification of a standard interface, individually different requirements can be implemented in the entire plant environment and we ensure the required variability in the line configurations," explains Brinkmann.
Modularity as a trigger
The fact that innovative companies are more profitable and able to respond faster to market changes has been confirmed by a large number of studies. However, a study by Pricewaterhouse Coopers also showed that a central criterion is the power of cooperation. So if you want to remain a leader in your markets or even conquer future markets, you must have the ability to develop and market innovations in a cross-industry knowledge transfer.
While Harting and Igus initially collaborated on standard solutions for custom energy chain systems, the idea of ​​co-engineering was born. If one thinks of the technical requirements of SSI Schaefer, it is only logical that a plug housing adaptable to almost every geometry of the energy chain would meet with great customer interest. Thus, the two suppliers agreed to further develop the idea developed in the Igus business unit assembly and bring it to market maturity.
Because the underlying idea of ​​modularity, ie the modular principle, has many advantages. On the one hand, it is easier to combine a complex overall system of defined, standardized and standardized individual parts. This in turn brings a huge time advantage in assembly and maintenance. On the other hand, lowering the error rate also contributes to the high efficiency. Modules can be used to shorten production and work processes, simplify development, reduce costs and ensure lasting quality. Thus, all technical and economic demands of SSI Schaefer, but also of other customers could be met.
Harting calls this co-engineering process "Connect + Collaborate" and wants to promote common developments with the combination of different core competencies.
Adaptable housing concept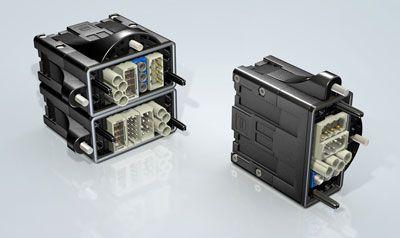 The first result of this Modularisierungsansatzes, with a not insignificant savings potential, was presented for the first time at the Hannover Messe. The "Han-Modular Flexbox" (Igus designation "Module Connect") is an innovative housing concept that can be adapted to the most diverse customer needs. The modular construction principle creates a multitude of individually designed interfaces. The ability to connect the individual flexboxes with each other and thus to combine a combination of individual connectors, resulting in a significant space savings in the application. In addition, it saves a significant amount of time as only a single connector system is used, which can be used to connect an energy chain. Integrated seals within the Han-Modular Flexbox, which are available in various diameters for the corresponding cable glands, allow adaptation of the Flexbox for every application.
In addition, the housing concept has an integrated strain relief, which can be optionally used. As a result, the cooperation partners have succeeded in combining all the functions of an industry-standard connector housing within this flexbox. As the Han-Modular Flexbox uses connector modules from the Han-Modular portfolio, the greatest possible diversity is required. With modules that are different than 100, Harting offers configuration options for all applications. The flexibility offered by SSI Schaefer is virtually unlimited.
Know and understand customer requirements
The development of the Han-Modular Flexbox was preceded by various votes among the partners. Guido Selhorst, Head of Corporate Market Communication at Harting: "One of the things that needs to be clarified within the context of co-engineering is that questions about the functionality of the part have to be asked, because this results in requirements for its production. The focus of a developer at an energy chain manufacturer is usually different from that of the connector manufacturer and therefore a personal exchange is indispensable. "Till Brinkmann, International Product Manager at Igus, adds:" It was important to us, regularly the corresponding project teams to bring to a common table to match the milestones set. "
Bringing the central aspect of a co-engineering process to the point, one can say that knowledge flows in both directions and benefits the customer. In this way, the combination of complementary competencies will become an entry ticket to new markets and the innovation arenas of the future.
The author is Guido Selhorst, Head of Corporate Market Communication at Harting.
---
Another contribution of the manufacturer This e-mail address is being protected from spambots To display JavaScript must be turned on!