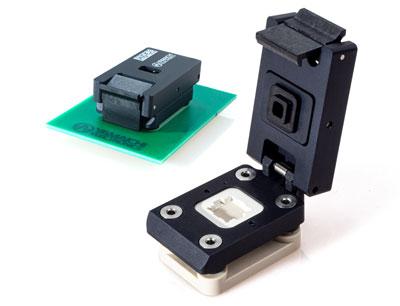 The new generation "Y-RED" is a completely reworked development of the semiconductor test contactors. It expands the product portfolio of Yamaichi Electronics, It combines high-quality technology, standardized elements and a simple and user-friendly installation.
As the first product of the new generation Y-RED, the standard socket will be available for component qualification applications such as HAST, HTOL or Burn-in. The grid already starts at 0,30 mm. The application temperature range is specified from -40 ° to 150 ° C. The Y-RED sockets are designed for the LGA, QFN and BGA packages as well as (WL) CSP packages.
A fundamental development step is the new mounting technology of the base, which has been newly roofed and simplified for the user. In conventional sockets, the handling of printed circuit board, socket with screw, washer and nut is sometimes somewhat expensive. The new generation Y-RED introduces a so-called mounting plate with pre-assembled screws. If the mounting holes in the circuit board are drilled with sufficient accuracy, this plate will hold by itself or can be pressed lightly by hand. Then the base is simply screwed from above with sleeve nuts. The mounting plate is used as transport protection on delivery and can optionally be used as a stiffener.
Other features include the spring-loaded pressure piece in the cover to compensate for component height tolerances and the exact component guide in the base. Yamaichi Electronics is planning additional products within the new generation Y-RED for fault analysis, low inductance, RF / COAX and Kelvin applications.
More news from microsystems technology
Mood barometer Representatives of the microtechnology industry are not currently assuming that the industry will suffer in the long term from the consequences of the corona pandemic. 63% do not currently expect any long-term effects that will have a lasting impact on microtechnology for several months or even years. This was the result of a lightning survey by the Ivam Association for Microtechnology on March 19, 2020, which was carried out among the members based in Germany.

With the new OLED microdisplay series ECX335S from Sony Semiconductor Solutions, Framos offers a solution that is suitable for the rapidly growing market for augmented reality (AR) devices due to its properties in terms of brightness, contrast, resolution and wide viewing angle. They are used in e.g. B. Head Mounted Displays (HMD), electronic viewfinders (VF) and as small monitors.

IC-Haus presents new absolute reflexive encoder chips, which now enable accuracies in the optical sensors for position and speed that were previously only achieved with transmitted light encoders. Designing a universal sensor platform for the widest possible range of applications is a revolutionary approach in encoder technology. This approach is about to open up diverse new applications in robotics and automation.

Hannover Messe Hall 5, Stand E04 The drive unit for a special vacuum application in semiconductor production consists of an internally toothed stainless steel ball bearing with the dimensions 1230 x 1091 x 27,5 mm including mounting plate and drive pinion. Rodriguez supplies this module from a single source as part of its customer-specific system solutions, Value Added Products. Thanks to a two-layer clean room packaging, the drive unit meets the strict requirements of the semiconductor industry.

In the car of the future, the need for fail-safe electrical and electronic systems will increase in terms of electric mobility and autonomous or automated driving. Infineon is now presenting an important new development for the automated vehicle. The Aurix second-generation microcontrollers (TC3xx) are the first embedded safety controllers worldwide to receive certification for the highest functional safety level in the car (ASIL D) according to the latest version of ISO standard 26262. The certificate was issued by SGS TÜV Saar.

Renesas Electronic presents five new optocouplers with 8,2 mm creepage distance. They are the world's smallest insulation modules for industrial automation and solar inverters. With a housing width of 2,5 mm, the RV1S92xxA and RV1S22xxA reduce the PCB mounting area by 35% compared to products from other manufacturers. The new components help developers downsize, increase the number of robot axes and improve productivity in production.

The new generation "Y-RED" is a completely revised further development of the semiconductor test contactors. It expands the Yamaichi Electronics product portfolio. It combines high-quality technology, standardized elements and simple and user-friendly assembly.

Compamed Hall 8a, Stand M04 Analog Microelectronics presents a new bidirectional differential pressure sensor for the ultra-low pressure range and thus expands its digital board-level pressure sensor series AMS 5915 with I2C output. The AMS 5915-0002-DB enables the precise measurement of extremely low differential pressures in the range from -250 Pa (-2,5 mbar) negative pressure up to 250 Pa (2,5 mbar) positive pressure.

Laser World Hall A3, Booth 320 Jenoptik has expanded the "Jenar" F-Theta lens series for laser material processing with a lens for the UV range: The F-Theta full quartz lens for 355 nm applications, with a focal length of 56 mm and a scan field of 22 mm enables very small spot diameters down to 4,5 µm. It is specially designed for use in micro material processing and is suitable for applications with ultra-short pulses.
load More halt SHIFT to load everything load all
---
Another contribution of the manufacturer This e-mail address is being protected from spambots To display JavaScript must be turned on!