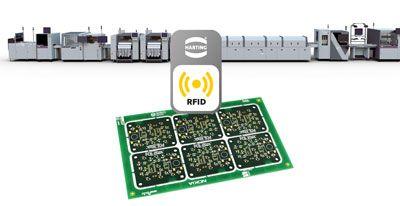 Electronica Hall C2, booth 548
Circuit boards communicate with their SMT production line and carry all the relevant manufacturing data. This is made possible by the Auto-ID solution "RFID-4-SMT "from Harting, This reduces error rates, simplifies documentation requirements radically and is the basis for automated printed circuit board productions in batch size 1.
In the production of the Rohleiterplatte a small UHF RFID chip is introduced into the blank or later applied as a component. From now on, manufacturing data can be written to and read from the RFID chip at each station in the manufacturing process. Even special events, such as faults within a production machine, can be stored.
All this is made possible by state-of-the-art UHF RFID technology. Thanks to the coaxial cable based "Ha-VIS Locfield" antenna and the flexible UHF RFID reader "Ha-VIS RF-R350" based on the "Mica" platform the realization is possible with little effort. The antenna array follows a coaxial conductor and enables full board speed communication with multiple boards in one board benefit.
Reader and antenna can be easily integrated in new and old systems. The compact design and the high degree of protection IP67 also make retrofitting easier. Full data integration into the production systems is possible at any time, but not absolutely necessary.
Thanks to the modular and open software architecture of the UHF RFID reader Ha-VIS RF-R350, the data can be preprocessed directly in the reader. The data management follows ISO standards and GS1 standards, which are already known from freight transport in the trade. Not only the ID of the PCB itself is meant here, but also the process and manufacturing data, which are stored in the so-called user memory of the RFID chip. Everything is so transparent and can be easily used later by third parties.
Once a printed circuit board has been equipped with UHF RFID technology, it can be used for a whole PCB life. The possibility of bulk detection of multiple boards at once even without visual contact, ie detection through foils and cardboard boxes, also predestines the technology for warehousing and logistics processes. In addition, the information can also be queried if the board is already in the application. As long as the housing is not completely made of metal and certain basic physical principles are adhered to, the information contained in the RFID chip can continue to be used and updated. Until disposal of the circuit board, the possibilities of UHF RFID technology are available and can enable and improve various applications.
---
Another contribution of the manufacturer This e-mail address is being protected from spambots To display JavaScript must be turned on!