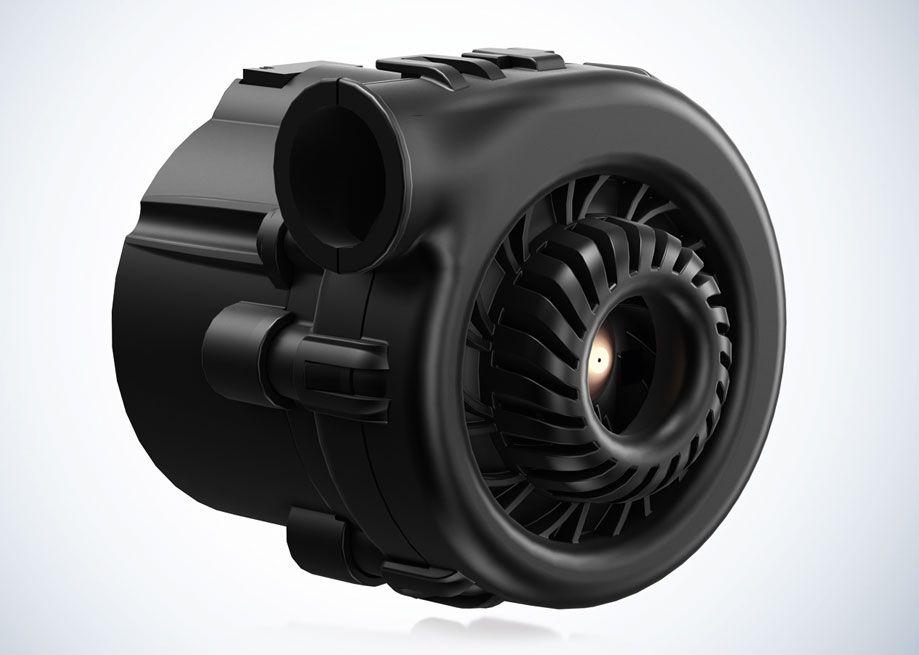 Compamed Hall 8B, Stand H27
From the field of air technology shows Ebm-papst the DC centrifugal fan RV45, which is available in versions with and without integrated electronics. The fan is used wherever dynamic air delivery with high static pressure build-up is required, such as respirators, respirators or an anti-decubitus system.
The alternating pressure mattress is a prophylactic measure that reduces the pressure on vulnerable skin areas in case of bed rest. The radial fan inflates air-filled chambers in a mattress, relocates the patients and thus prevents bedsores. Here is the lowest possible noise development important so as not to disturb the sleep of the patient.
---
Another contribution of the manufacturer This e-mail address is being protected from spambots To display JavaScript must be turned on!
More news from medical technology
Case study Scientists have developed a novel cochlear implant based on the 3D microfabrication of microstructures from Nanoscribe. Microstructures produced by means of 3D printing release steroids via the smallest structures. This is the first time that the researchers have brought together a high-precision 3D printed steroid reservoir and a 2D MEMS-based electrode array for the production of new cochlear implants. The cochlear implant design was designed to reduce residual hearing damage from an electrode insertion trauma.

Neomento develops virtual reality-based software solutions for the treatment of mental disorders such as anxiety and addiction disorders. The most effective form of treatment, the confrontation in real environments (in vivo), is logistically complex, challenging and not fully controllable.

With the new power supply series DTM65-D and DTM-65C8 from TDK-Lambda, Hy-Line Power Components is offering external AC / DC adapters with mains plug / IEC connector for the first time. The devices with an output power of up to 65 W also have approvals in accordance with IEC 60601-1 for medical devices and meet the latest requirements for energy efficiency.

Rauscher presents 18 new Basler "MED ace" USB 3.0 cameras with 9 and 12 megapixel resolution and the best CMOS sensor technology available on the market. They offer frame rates of up to 42 frames / s and are produced, distributed and supported over their entire product life cycle in accordance with ISO 13485: 2016. They are also equipped with the MED Feature Sets especially for applications in the medical and life sciences sector.

Compamed Hall 8a, Stand K04 With the FP 400 diaphragm liquid pump, KNF has succeeded for the first time in arranging five diaphragms horizontally on one level. As a result, the FP 400 achieves a very low pulsation on the suction and pressure side. With this value, which was previously reserved for gear pump technology due to its design, the FP 400 has a real unique selling point.

Compamed Hall 8b, Stand H08 Schott introduces a new light age for single-use endoscopes with the "Single EZ guide" light guide: The light guide is designed as a plug-and-play component and can therefore be easily, quickly and cost-effectively integrated into it Install the entire system. Due to the space-saving use of flexible glass fibers, a maximum of light can be transported to the scene in the very thin light guides.

Specialist article SPS Hall 4, Booth 4420 ABB has opened its first global health care hub dedicated to health research on the campus of the Texas Medical Center (TMC) in Houston, Texas. At the opening, a number of technology concepts were presented, including a mobile "Yumi" robot, which is designed to support medical professionals and laboratory workers with laboratory work and logistical tasks in the hospital.

Applications in medical technology are often exposed to large mechanical and chemical influences. In order to meet these requirements, ODU has developed silicone-encapsulated system solutions. The technology offers a flexible complete system consisting of connectors, cables with suitable assembly and overmolding as well as optional labeling.

Compamed Hall 8B, Stand H27 From the field of ventilation technology, Ebm-Papst is showing the DC radial fan RV45, which is available in versions with and without integrated electronics. The fan is used wherever dynamic air delivery with high static pressure build-up is required, such as for respiratory masks, respirators or an anti-decubitus system.
load More halt SHIFT to load everything load all