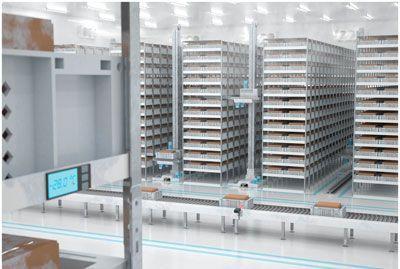 technical articles
The freezer zones are governed by other laws, such as in environments under normal temperatures. The Bar code scanner VB14N-T from Pepperl + Fuchs ensures optical identification at temperatures up to -35 ° C. It offers a very good reading performance even with low bar code contrast, can be quickly put into operation by a fast warm-up phase and is energy-efficient and compact.
In the food industry, a complete cold chain is essential for the quality of the products. The storage temperature of frozen products is no more than -18 ° C according to German food law. This temperature must not be exceeded during the entire cold chain. This places high demands on the sensors in the cold storage warehouses. Even at very low temperatures, frozen products must be reliably identified so that they arrive at the final destination.
Challenges of the application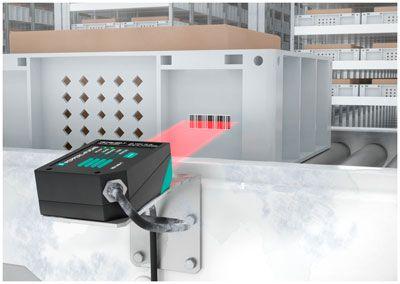 The goods are transported in frozen storage on trays. The frozen goods can be identified and transported for further picking with the aid of the barcodes attached to the trays. The scanners must therefore be able to be used quickly and reliably at the lowest temperatures. In addition, the prevailing temperatures can negatively affect the readability of the codes themselves. For minimal error rates and low throughput times even difficult to read codes must always be reliably detected, even at high throughput speeds.
Features of the barcode scanner
The bar code scanner VB14N-T has an integrated heater and therefore withstands ambient temperatures from -35 ° to + 45 ° C. Thanks to the short warm-up phase of a maximum of 20 min, it is quickly ready for use and has a reduced energy consumption of maximum 9,6 W. In addition, the scanner is very reliable when reading hard-to-recognize barcodes thanks to its high-performance optics and code reconstruction. The compact design also allows installation in confined spaces.
Networking included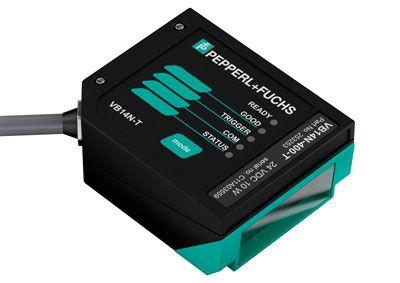 Up to 32 devices can be networked via a high-speed connection. This allows simultaneous detection of multiple bar codes that may be located at different positions. The scanner has a function key and several LEDs to assist with parameterization, bar code learning and testing.
During operation, the LEDs provide information about the respective reading status. The associated PC software also allows easy parameterization.
---
Customer magazine Amplify This e-mail address is being protected from spambots To display JavaScript must be turned on!
Further contributions from Pepperl + Fuchs
Logimat Hall 3, Booth B08 With the level sensor concept "Wilsen.sonic.level" from Pepperl + Fuchs, the level of liquids and bulk goods in containers, tanks or silos can be monitored remotely with the help of the Internet. The IoT sensor has an integrated ultrasonic measurement for measuring fill levels, fill and level. These measured values ​​are recorded at regular intervals and sent to the Internet together with the current geoposition. The autonomously working radio sensor is operated by battery and thus enables measurements in mobile containers.

User report Pepperl + Fuchs has developed a customer-specific 2D lidar sensor for a more flexible transport shuttle based on the specially developed Pulse Range Technology in close partnership with Montratec. This allows a distinction to be made between permanently installed track sections such as tunnels or curves. This was not possible before and not easy either, as this user report shows:

SPS Hall 7A, Stand 330 Pepperl + Fuchs is the first company to offer IO-Link Masters with an OPC UA interface, thus enabling the path to seamless, transparent and seamless communication from the lowest field level to the cloud.

SPS Hall 7A, Booth 330 The Pepperl + Fuchs brand Ecom presents the new generation of its intrinsically safe 4G / LTE Android smartphone series Smart-Ex. With a large 12,7 cm (5 ") display and powerful features, good ergonomics and an optimized accessory concept, the completely newly developed Smart-Ex 02 is the most advanced explosion-proof smartphone for Zone 1/21 and Div. 1.

FMB Hall 20, Stand B22 Pepperl + Fuchs is focusing on the expansion of the IO-Link portfolio: For applications with restricted installation conditions, the IO-Link Master of the ICE1 series will also be available in a housing that is only 30 mm narrow. Advantages such as multi-protocol, M12 power connector and web server functionality are still available to the user.

The new Digital Products and Services product line expands the portfolio and complements the mobile worker concept at the Pepperl + Fuchs brand Ecom. The digital products and services combine staging, mobile device management and device analytics.

Specialist articles There are different laws in the freezer zones than in environments under normal temperatures. The VB14N-T barcode scanner from Pepperl + Fuchs ensures optical identification at temperatures down to -35 ° C. It offers very good reading performance even with a low contrast of the bar code, can be put into operation quickly thanks to a quick warm-up phase and is energy-efficient and compact.

User report Pepperl + Fuchs has sensors in its portfolio for the detection of glue points in the packaging, with which a continuous packaging process can be reliably ensured. The ultrasonic sensors monitor the stack height regardless of color, shape and surface - and that maintenance-free. Teaching in the sensors is super easy.

Safe and fast communication via voice control and wrist: With the new Smart-Ex Watch 01, the Pepperl + Fuchs brand Ecom is adding a real hands-free application to its portfolio of communication solutions for mobile operators. The Smart-Ex Watch 01 is the first smartwatch for Ex areas in Zone 2/22 and Div. Second
load More halt SHIFT to load everything load all