cover story
Ready-made sauces are practical. But also a challenge for the bottlers and their machines in the Food technology, In addition to bottling, mixing the many ingredients in the production process also plays a key role. The possibilities and variations are almost unlimited. Dosed, mixed and bottled in a project of Viscotec various ingredients with different viscosities or lumpy materials.
These can be, for example, liquid sauces and spice mixtures with mushrooms, onion pieces, cucumber slices or candied fruits for catering companies. The filling quantity varies between 125 ml and 500 ml. Thanks to the proven technology, pieces up to a size of 25 mm can be filled.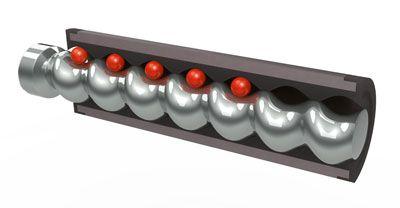 In order to make the high-quality products available to the end user in high quality and without damage, a gentle filling technology is required. A special product displacement process, which modern packaging machine manufacturers take advantage of, enables sensitive products to be packed in tubular bags with little air. Due to the continuous operation of the vertical forming, filling and closing machines, a continuous supply of packaging material can be combined with endless or continuously metering filling operations.
Advantage of continuously operating machines
A low reject rate is just as important as high throughput times and continuous performance. Not only for manufacturers who want to increase their productivity through maximum utilization of their packaging lines. Particular attention is paid to the process of bag filling. In order to achieve a high production frequency, the individual process steps must be concatenated as short and fluidly as possible.
A precise and elaborate fine-tuning of the individual components is absolutely necessary for this. Especially with smaller packaging sizes such as 10 ml, the interruptions that are necessary for the tube feed and the sealing of the tube take up valuable cycle time. Here you can clearly see the advantage of continuous flow wrapper machines: Compared to intermittent machines, the filling process and the sealing process can not be switched one after the other, but at the same time.
Continuous filling with endless piston technology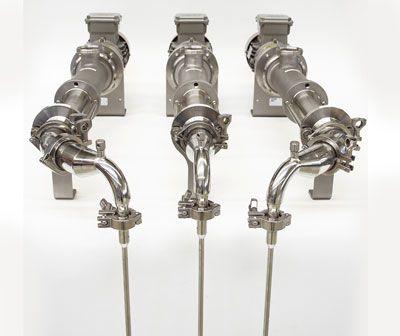 The dosing Viscotec's eccentric screw technology perfectly suits this continuous approach. With the Endless-piston technology of the dosing technology specialist, the products belong to the group of rotating positive displacement pumps. The operation is similar to an endless piston, which promotes the product from the suction side to the pressure side and thereby builds up a pressure difference. The core of every application is a volumetric pump. The interaction of an eccentrically moving rotor and stator results in a conveying and metering characteristic which corresponds to that of an endlessly moving piston.
This endless piston principle is particularly suitable for the conveying and filling of abrasive and solids-laden, ie lumpy media. A key benefit of this technology lies in the resulting delivery chamber, whose volume remains absolutely constant during the course of the movement. This feature makes it possible to fill a wide range of sauces - high-precision, absolutely repeatable and gentle. From smooth sauces to lumpy component sauces, everything is just as much part of it as from small sample packs with 5 ml to large packs with several liters.
Carefully fill without damaging dosing materials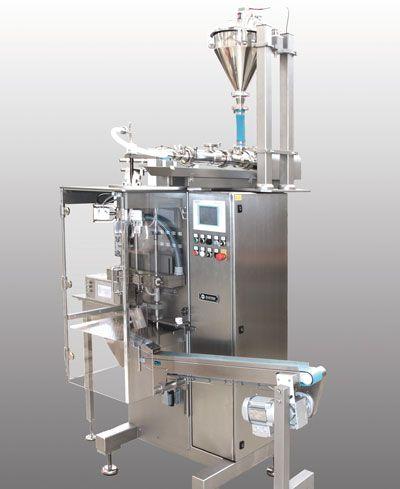 The solids are conveyed particularly gently in their carrier medium through the chambers between rotor (stainless steel) and stator (elastomer). The shape, color and consistency of the solids are not affected. A uniform particle distribution is guaranteed and the desired product properties are completely preserved. Even large pieces up to a size of 25 mm with excellent particle integrity can be dosed with a repeat accuracy of over 99%.
For precise, low-volume filling of viscous, abrasive or solids-laden products such as the hot chilli sauce, conventional filling technologies such as piston or peristaltic pumps reach their limits. For these types of pumps, solids-containing or abrasive products are particularly critical: Often, mechanical damage to the moving parts occurs here.
Especially for these applications, filling pumps in the endless piston principle are very well suited. Advantages of this technology include, for example, a variable and, if required, customer-specific material selection of the dosing components, the particularly low-shear conveyance and a laminar flow within the rotor-stator design.
Dispenser in Hygienic Design
Liquid and pasty products place very high demands on hygiene in the packaging process. Due to their special design, the dosing pumps of the supplier meet all requirements. The pump housing designed in accordance with the EHEDG guidelines is dead-space optimized to avoid any product deposits. From a design point of view, attention was paid to easy and quick disassembly. This facilitates not only automatic cleaning but also manual cleaning after disassembly. To serve the high quality and hygiene regulations of the customers.
---
This e-mail address is being protected from spambots To display JavaScript must be turned on!
Latest posts from Viscotec
With the new office in San Diego, Viscotec is now also present in Southern California. The solution provider for sophisticated dosing processes also celebrated its tenth anniversary in the United States at the end of 2019. Viscotec America offers high-precision dosing of 1- or 2-component materials based on the progressing cavity pump technology.

Viscotec has further developed its proven stainless steel rotor for the reliable dosing of abrasive fluids such as thermally conductive 1K and 2K gap fillers, 1K thermal pastes or highly filled 2K adhesives. The new version in the form of a ceramic rotor enables significantly longer service lives for this core component of the dosing system.

Productronica Hall A4, Booth 405 Viscotec presents optimized dispenser series for even smaller dosing quantities in the 1K and 2K range. The ceramic rotor especially for highly abrasive materials and an optimized version of a mixing block for materials that are difficult to mix will also be on display.

On October 01, 2019 Viscotec opened a new branch in Mérignac, Bordeaux. The subsidiary in France is the fifth branch worldwide. It is planned as a sales, service and support organization that will sell and support both Viscotec and Preeflow products.

Fachpack Hall 3A, Booth 127 A major challenge in dosing technology is still the gentle dosing of solids-laden liquids without damaging the solids. Viscotec provides pharmaceutical dispensers with a hygienic design to ensure a reliable dosing process.

Viscotec now also offers its VHD Hygienic Dispenser with a hard chrome-plated rotor. The combination of optimized material and established technology will open up an even broader spectrum for users in the future. The manufacturer is thus responding to the demands in the cosmetics industry for more flexible and less wear-filling processes.

Cover story ready-made sauces are practical. But also a challenge for the bottlers and their machines in food technology. In addition to filling, the mixture of many ingredients also plays a central role in the manufacturing process. The possibilities and variations are almost unlimited. In a Viscotec project, various ingredients with different viscosities or lumpy materials are dosed, mixed and filled.

The new 4VPHD6 pharmaceutical dispenser from Viscotec expands the VPHD series in GMP design. Developed for hygiene applications in the pharmaceutical industry, biotechnology or medical technology, the Hygienic Dispenser series convinces in numerous applications. Because the market has asked for even smaller dosing quantities, the manufacturer has expanded the series with a dispenser for filling small quantities of 0,1 ml or for continuously dosing 0,2 ml / min.

The "Preeflow Eco-PEN300 1K" dispenser from Viscotec ensures optimal processes and low material consumption in automated use. Applications can be found everywhere: on steering wheels and grilles for cars, excavators and tractors, on coffee machines, refrigerators and other household appliances.
load More halt SHIFT to load everything load all