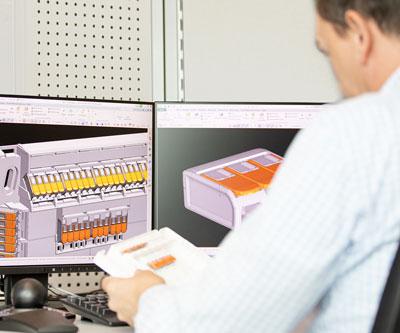 FMB Hall 20, Stand B23
The 221 "Compact" connection terminal from Wago is in the classic electrical installation in buildings for a fast, easy and secure wiring. The advantages of this clamp with lever are now increasingly finding product managers, designers and developers at device manufacturers - from the component manufacturing to equipment production and the device connection to the final product.
International approvals allow a variety of applications. It also helps manufacturers gain access to the global sales market. The universal and flexible spring connection technology connects all types of conductors from 0,14 to 6 mm2 easily, quickly and safely without pre-wire treatment. A time and thus further cost advantage also arises in comparison to the screwing and soldering: simply lever on, head in, lever to. This tool-free and therefore convenient conductor connection simplifies the wiring and the complete device connection of the installer on site.
The country-specific approvals (eg UL approvals, etc.), ship approvals and many more of the 221 series allow a wide range of applications. Likewise, the components and devices with the integrated 221 can be used worldwide.
---
Another contribution of the manufacturer This e-mail address is being protected from spambots To display JavaScript must be turned on!
More news from building technology
In the new smart luminaire, Saliot combines technologies from Minebea Mitsumi with which the lighting position, degree of dimming, light distribution angle and color temperature can be conveniently controlled using an app. Thanks to an ultra-thin lens with different surfaces on the front and back, a prism pattern is created that cleverly controls the light and reduces light loss to a minimum.

Dial and Relux are planning to jointly develop a new, open data format for luminaires and sensors that can be used, among other things, in the company's two lighting planning programs.

For the first time, Phoenix Contact offers a holistic solution for wired or wireless IP video surveillance for building automation in an industrial environment. This includes an extensive product portfolio of connection and automation technology that is used between the camera and video server.

K Hall 10, Stand E55; Motek Hall 3, Booth 3221 Cover story What if: When building your own home, you could create individual concrete parts according to your wishes and would also reduce CO2? The start-up Printstones knows how to do this: with its mobile 3D printer, individual concrete parts can be created on site at the construction site. A tool change system from Gimatic, known from industrial automation, provides the necessary flexibility.

K Hall 5, Stand C21 / D21 Specialist article BASF shows its new, super slim high performance insulation materials "Slentite" (picture left) and "Slentex". With their material properties, the new generation of energy-efficient thermal insulation materials based on airgel are suitable for slim concrete facades of residential buildings and as high-performance insulation in the automotive sector.

FMB Hall 20, Booth B23 The "Compact" connection terminal from the 221 series from Wago is used in classic electrical installation in buildings for quick, easy and safe wiring. Product managers, designers and developers at device manufacturers are now increasingly discovering the advantages of this clamp with lever - from component manufacture to equipment production and device connection to the end product.

With the PWT 3 air / water heat exchanger, SPS Hall 115C, Stand 6402 Pfannenberg has developed a cost-effective air conditioning solution for the roof structure, which offers another safe alternative to the device for side installation already in the portfolio. In addition to the practical installation on the control cabinet roof, planners of production and manufacturing halls are now even more flexible.

After the successful introduction of the "Scala2" three years ago, Grundfos expanded the program to include the domestic waterworks Scala1. The compact dimensions, the whisper-quiet water-cooled motor and the simple operating concept were adopted. The Scala1 has the outdoor protection class IPx4D (splash water from all directions).

Light + Building Hall 9.1, Stand A87 EKS Engel shows a new Industrial Ethernet switch e-light-1100-4AC version 16TX / 1FX and 8TX / 1FX. The Gigabit Switch was developed for direct operation with 230 VAC mains voltage. The two versions are thus suitable for. B. for economical solutions for networking electricity meters in households. Unlike classic industrial devices for a 24/48 VDC power supply, the Gigabit Switch does not require any additional voltage converters.
load More halt SHIFT to load everything load all