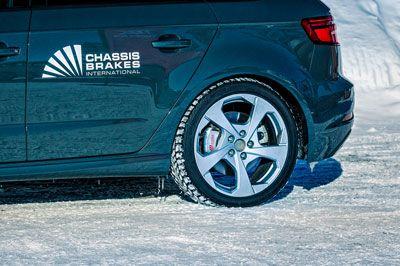 The "Brake-by-Wire Smart Brake" braking system from Chassis Brakes International should replace the currently hydraulically operated brake systems and be the basis for the future braking systems of autonomous vehicles. During road tests in Lapland, ten customers had the opportunity to experience the braking performance of the Smart Brake installed on all four wheels of the demonstration vehicle.
The system provides full brake functionality, including anti-lock and traction control, and parking brake function. The brake-by-wire system combined with innovative control strategies can help to further reduce the braking distance of future vehicles. The system also reduces the vehicle's residual braking torque when the brake is not in use, helping to improve fuel economy and reduce CO2 emissions. The single-actuator design combines service and parking brakes on all four wheels.
"Our Smart Brake system provides vehicle manufacturers with a simplified and dry brake solution that reduces system architecture complexity, component count, weight, and maintenance requirements," said Thomas Wünsche, Global CEO of Chassis Brakes International not just the hardware components, it also increases performance and provides additional functionality compared to traditional systems. "
---