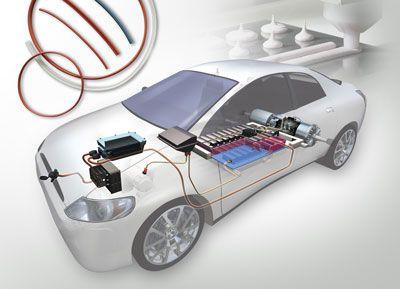 technical articles
Electric vehicles with their high-voltage systems and their power electronics pose particular challenges for automotive manufacturers and their suppliers in the areas of sealing, shielding of electrical interference signals and thermal management. The Engineered Materials Group of Parker Hannifin Corporation offers a comprehensive portfolio for this.
The components of alternative drives such as the E-axis, batteries, power electronics and their controllers require a variety of sealing and shielding functions. The goal is the efficient and reliable operation of all electrical on-board systems, from the charge-current coupling through the battery to the electric drive.
There are established sealing solutions such as O-rings, press-in-place seals, rotary seals, integral seals (composite sealing plates). There are products available for electrical shielding and dissipation of heat such as EMI components, thermal gels and pads. Special advantages can be achieved by combining the above-mentioned functions in one component.
Sealing of electrical on-board systems
Drive systems for hybrid or electric vehicles consist of a large number of complex components with specific tasks and requirements. Control units, power electronics or the electrified drive axle and their individual components must be reliably protected against environmental influences and electromagnetic disturbances. For this, the manufacturer offers a comprehensive range of products for shielding and sealing of housing elements. With press-in-place frame seals, O-ring seals, housing parts with integrated sealing system to applicable heat-conductive sealing pastes, a variety of possible sealing solutions are available.
To seal large enclosures such as the battery system, there are sealing solutions in XXL dimensions. Large circumferential gaskets, whether extruded or of higher quality without impact, are a great solution for large enclosures. In contrast to glued housings, they allow a simple revision in case of repair.
For electromagnetic shielding, which is designed to prevent unwanted effects on the components from the outside or from neighboring electrical systems, special sealing solutions made of EMI materials are available.
Thermal management for on-board systems
The compact space of the on-board electrical systems such as battery, power electronics and electric motor combined with their high power density require efficient and intelligent thermal management solutions. Air-cooled or liquid-cooled systems require sealing solutions with high temperature resistance and long service life. Inefficient cooling would severely disrupt the overall system and could lead to massive performance degradation, including total destruction of the electronic components of the hybrid or electric vehicles.
Parker has many years of experience in the development of sealing materials for cooling systems with particularly demanding life cycle and chemical resistance requirements. In addition to static and dynamic sealing solutions such as flange, shaft or molded gaskets, there are also special thermo-gels or pads for dissipating the heat of electrical components or housings.
---
Another contribution of the manufacturer This e-mail address is being protected from spambots To display JavaScript must be turned on!