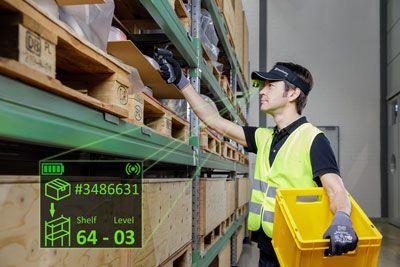 Electronica Hall C5, booth 426
Fraunhofer FEP has been successfully developing OLED microdisplays based on OLED-on-silicon technology for many years. At the same time, work is continuing on the necessary electronics and system environment for future augmented reality (AR) applications. Now the developers are presenting a powerful set for the independent development of wearables with OLED microdisplays.
Two years ago, the Fraunhofer Institute for Organic Electronics, Electron Beam and Plasma Technology (FEP) presented its first ultra-low power OLED microdisplays at electronica. These microdisks score with their extremely power-saving design. In many applications, they open up an alternative for pin-sharp display of simple information. In the meantime, the microdisplays were successfully transferred to production and put on the market.
But a display alone does not make an AR app. Scientists in the field of IC and system design have now developed the electronics and display to bring it quickly into applications. An indicator alone is not enough. The communication of the display with other interfaces and systems is the key to the application. Diverse inquiries, ideas and application scenarios can be addressed with the microdisplay solution and its inherent advantages.
The extremely small size of the ultra-low power OLED microdisplay is predestined for small, miniaturized and lightweight systems that are portable and easy to integrate into clothing, helmets or goggles. The OLED technology of the display enables sharp images with very high contrasts and brightness from 20 to 5000 nits.
The electronics concept addresses z. B. Applications in harsh applications such as civil protection or industry or telemedicine. The display lives on the information that a data source sends and that you want to display. The ultra-low power concept is not about high-resolution video data with the fastest refresh rates, but about the display of simple characters, data or information, which are transmitted with little latency as commands. In a major fire, for example, with a large number of emergency services, the control center via built-in helmet displays can quickly send precise and easy-to-capture instructions to local firefighters. By integrating a display in the helmet, the display is also possible in rooms with low visibility through smoke.
The Bluetooth kit lays the groundwork for augmented reality developments - such as a data helm for emergency responders or a worker in the 4.0 industry - without long loading times. In principle, however, the connection to narrowband low power radio data transmission networks is conceivable.
The developers have a vision: In the future, anyone could have a suitable microdisplay for their desired application, which can be easily programmed. The development kits available as a complete package in addition to the display everything from the optics to the graphical interface for Windows or Android. These are tools that help product developers and app developers to easily and easily test their ideas and play with technology.
---
Another contribution of the manufacturer This e-mail address is being protected from spambots To display JavaScript must be turned on!