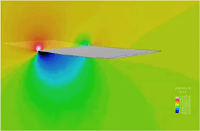 Altair Engineering, Inc. announces the acquisition of ACUSIM SoftwareKnown, Inc.. ACUSIM with headquarters in Mountain View, California, is a leading developer of highly scalable, high-precision solver solutions for fluid dynamics (CFD). Altair will integrate ACUSIM technology and the development team of the company in the development team of "HyperWorks' computer-aided engineering (CAE) software.
The purpose CFD solver "AcuSolve" is used worldwide and by many of the most actively traded U.S. company (Fortune 500) including Bechtel, Chevron, John Deere, Procter & Gamble, Toyota, Vestas, Visteon and Whirlpool. Unlike other commercial CFD applications, AcuSolve is based on the finite element method (FEM), which enables tight integration with other FEA-based technologies to solve the most complex fluid-structure interaction, and multi-physical tasks, both fast growing trends in the global simulation market.
"The acquisition by Altair is a perfect complement to our CFD product offerings and vision," said Dr. Farzin Shakib, founder and CEO, ACUSIM Software. "Altair's strength as a leader in the areas of pre-and post-processing, CAE solvers and optimization technologies opens new opportunities AcuSolve employ a larger number of tasks and markets. For our customers, this acquisition will enhance our development and support resources globally significant, and our CFD allow technologists to focus solely on the development of ACUSIM CFD technology. "
"With the addition of the HyperWorks product line by Acusims CFD technology Altair with the most comprehensive high-end solution offering in the CAE market," said James R. Scapa, chairman and CEO of Altair Engineering. "We have examined many CFD technologies in detail and have found that AcuSolve is an industry-leading CFD solutions, especially for transient flow and fluid-structure interactions. With the CFD expertise and technology, we can automate the CFD user experience and broaden the solution area that is available to our joint customers. "
---
Another contribution of the manufacturer This e-mail address is being protected from spambots To display JavaScript must be turned on!