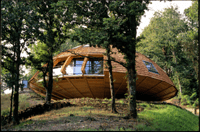 Domespace, supplier of environmentally friendly building plans, providing a web-based application that allows to design rotating dome houses an ecological point and can test. The French company uses the SolidWorks CAD and Simulation Software as crucial components in a system, which will provide a complete digital chain from customer order through production to the construction.
"We focus on the future," said Benjamin Thoby, Head of IT and Research & Development at Domespace. "Our customers can design their homes using the CAD software in peace on their own terms. SolidWorks Simulation helps in the validation and manufacturing. This is an exciting challenge that can be overcome with an efficient and flexible tools of SolidWorks well. "
The houses of Domespace be designed from the point of energy efficiency and environmental friendliness. The domed building rotate to use solar energy optimally. Through the thick insulation, the heating and cooling requirements are reduced to a minimum. The wood comes from sustainable forests and is free from chemical substances. Domespace world has already designed and built houses 200 and recorded in the last five years, an annual growth rate of 60%.
Thoby and his team chose the software because it meets all requirements, especially in terms of architecture design, component design and calculation of the thermal properties and stress. "We are developing two series 20 different models. All adjustments to inventory between the two series.
---
Another contribution of the manufacturer This e-mail address is being protected from spambots To display JavaScript must be turned on!