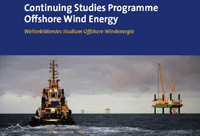 Yesterday celebrated ForWind - Center for Wind Energy Research of the Universities of Oldenburg, Hanover, Bremen - and the Wind Energy Agency WAB - Industrial network of wind energy - the official start of the jointly developed and hitherto unique continuing education study offshore wind energy.
Wind energy from lake plays an important role in enhancing the use of renewable energy. The continuing education program offshore wind energy is the first program of study at an academic level specifically for this industry. Professionals from wind industry, maritime industry and the adjacent areas have the opportunity for you to train specifically for the new challenges. Particular expertise in the interface, project and risk management, as well as the appropriate technical expertise to play a prominent role.
The offshore wind industry and takes place at the international level, therefore, is the language of English. The contents are taught practical and flexible and cover all aspects of wind farm design, project development and installation on to service and operation. Among the self-learning units attendance periods come at locations in Oldenburg and Bremerhaven, where the future offshore experts are able to network with each other. Study-related project work emphasizes the practical approach of the study. The pilot run with 24 participants will start in the fall 2012 and lasts nine months. After passing the final examination, the participants a grade certificate from the Carl von Ossietzky University of Oldenburg.
---