21. August 2012
Hits: 1543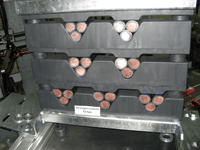 HusumWindEnergy 1 Hall, Booth F04
The required supply parts for cable attachment in wind tower high demands: the enormous weight of cable must be held securely to the tower wall. Let me preface many questions to be answered. Walter Stauffenberg developed for many years, special clamps and can answer these questions.
Which clip spacing is optimal, the base and the customer used Fasteners stable enough? The designer can be sure that the top bracket, the total weight of the cable during the erection of the tower holds and secures the clamp the cable, even with different cable materials, without damaging the insulation?
Together with the customer, the specially important for their applications are tested in-house test lab and analyzed. For example, the appropriate tightening torque is measured and tested. Then cleared on the tensile tester, which reached the maximum holding power clip to the specified tightening torque. Also axial and radial clamping forces are measured. The readings are recorded in a log that is made available to the customer.
---
Another contribution of the manufacturer
Configurator for special clamps
This e-mail address is being protected from spambots! Must be enabled to display JavaScript!