16. August 2012
Hits: 881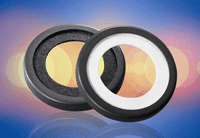 HusumWindEnergy 3 Hall, Booth E12
Einer der Development priorities for wind turbines is the achievement of waiting times in the range of decades, if possible without a service interruption. This requires the manufacturers of the components in the drive train special effort. Very important elements here are the extremely loaded seals that must cause in gears and generators for permanent safe function. This focus has Freudenberg Simrit the technology of PTFE impregnated webs evolved.
The central element of the new Protection Seal the sealing lip of PTFE impregnated fabric. This material is chemically and thermally resistant plastic fibers that are processed by a patented process by impregnation with PTFE and lamination to resist high mechanical performance nonwovens. The sent with this production combined characteristics of high performance fiber and PTFE impregnation allow - used as a sealing lip - the ability to handle a previously nearly impossible task: Extreme sliding speeds and longest service life possible, without expensive machining of the shaft surface.
Where conventional seals require a ground, and possibly hardened shaft surface, this mat is characterized by minimal friction and excellent dry-running characteristics even at high speeds. Tests showed recently that in some cases even the possible use on a painted shaft. The nonwoven may be depending on the application requirements, either used directly as a single seal, for example, a retaining ring, or integrated as an additional protective lip as in one of the labyrinth seals Radiamatic RCD Freudenberg Simrit. Directly adapted to an existing maze or shaft seal, this requires no special protective sealing space. The Protection Seals "stand-alone" use, they lean, cost-effective and are ready to install single seals, build short and are easy to assemble.
In both variations of the seal lip material provides very good protection against brake dust, sand, salt crystals and abrasive particles in the air, and splash and spray paint. This ensures that both the Assembly and in the tough everyday use the valuable main gearbox or the expensive generator can be effectively protected. Good chemical and thermal resistance prevents aging of the element, at the same time eliminates the permeability of the web an undesired formation of a vacuum in the interior of the transmission. Furthermore, a version of the electrically conductive non-woven material available and thus offers as replacement for expensive electrostatic dissipation elements.
---
Another contribution of the manufacturer
My Seal App
This e-mail address is being protected from spambots! Must be enabled to display JavaScript!