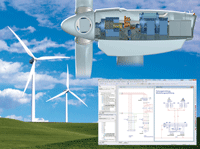 HusumWindEnergy 4 Hall, Booth A14
For suppliers of wind turbines, offshore wind farms and other renewable energy production methods are the requirements in engineering large and differ with regard to standardization, efficient manufacturing, and global network performance data management hardly the classical mechanical engineering. Current with integrated engineering systems Baisi the Engineering Center and the EEC EPLAN platform 2.1 shows the solution provider for optimization.
Mechatronics is playing a crucial role, which is supported by the unified data base of systems for electrical and fluid engineering related to the mechanics and extensive component data. The process optimization through new engineering methods and variant management are priorities presentation.
For greater efficiency, the challenge today, not only in the engineering work mechatronically but already start in product development. This product should be built modular structures based from the outset in order to speed up processes and also the maintenance of long-lived assets with a comprehensible "as-built" documentation to secure. Thus, the currently higher requirements will be implemented based on modular development, data management and collaborative engineering, the company offers comprehensive consulting support. It all project participants are working on the same project in their own language.
---
Another contribution of the manufacturer
This e-mail address is being protected from spambots! Must be enabled to display JavaScript!