11. April 2011
Hits: 1995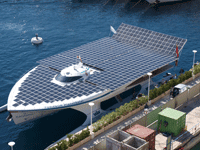 First prove themselves synchronous motors DS series of Baumüller in nautical environment. The Swiss engineering service drivetek relies on energy-efficient and robust electric motors to drive the world's largest, operated by solar power catamaran. 95 difficult t, m and long 31 15 m wide. These dimensions are for a catamaran initially not uncommon. But the name and its meaning - MS Turanor is strength of the sun - suggests more.
Almost the entire area of ​​about 500 m² large, shiny black deck is covered with solar cells. This futuristic-looking ship is the first in its size, which is exclusively powered by solar energy.
The solar panels on the ship's deck 38.000 capture solar energy with which the boat picks up speed. Two synchronous motors of the type DSF 132 set per drive shaft with a carbon propellers that energy into motion. With nearly 2 m diameter, the two oppositely moving propellers are twice bigger than usual.
The Swiss engineering services drivetek was responsible for the complete electrical power and propulsion system and has the components fairly self developed, optimized and coordinated. Aim at the realization of the project was to use highly energy-efficient engines, since the power is supplied exclusively by solar energy on battery backup. For weight and efficiency reasons beyond synchronous motors only came into question. Could convince here four water-cooled DSF engines to power the two propellers with performances above 90%. At the required maximum power of 60 kW or the required performance at normal cruising speed of 10 kW due to the high efficiency of the motors, a power conversion efficiency is ensured. Another reason why drivetek has relied on the expertise of the Nuremberg company, was the robust design that meets the conditions of the nautical sector. Only a corrosion protection was also required.
---
Another contribution of the manufacturer This e-mail address is being protected from spambots! Must be enabled to display JavaScript!