08. April 2011
Hits: 1601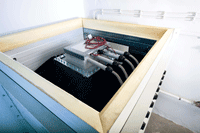 In many homes and buildings, the possibilities of solar technology can not be effectively used: Narrow Stairs, narrow doorways or labyrinthine cellars allow for lack of space often only store of steel, the grip just to 200 max.1000 l. Contitech for it, together with the flexible solar technology FSAVE Solar Tank "Save Flex Duo" developed the most productive stores solar energy. The production-ready product opens up new dimensions opened memory.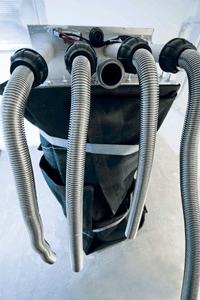 The heat store is equipped with a flexible water tank from Contitech and is assembled only locally from parts. Construction of an easily understandable instructions for the memory is easily be assembled by each heater installer. Special training or a proprietary installation team are not necessary. The installer will benefit from a high degree of prefabrication and on-site only puts together the components and bolted it. Welding or special processing are completely eliminated. "It's been a small revolution for the heating industry we have here on track," says Heiko Eymer, general manager of ContiTech Elastomer Coatings, specialist in technical fabrics, the market impact of the development.
The special power of the new heat storage: It fits in contrast to conventional steel solutions to all local conditions at a house. The cubic shape of the store also offers a better use of space than round product solutions. "We can install a long-time waterproof heat storage, which can hold two cubic meters of water and more. This system can be installed now a much larger collector and solar energy for hot water much more effective use than before, "says Claudius Wilhelms, manager FSAVE out. The system contributes in particular to the fact that solar panels are much easier to retrofit into existing buildings to make renewable energy available for many end.
---
Another contribution of the manufacturer This e-mail address is being protected from spambots! Must be enabled to display JavaScript!