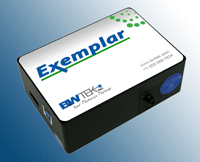 Polytec, the new CCD Minispectrometers "copy"The U.S. producer and partner company B & W Tek ago. It is the world's first miniature spectrometer that includes a processor as an integral part of the averaging, smoothing and automatic dark current reduction in analytical values ​​together with a temperature compensation.
The high-speed USB data transfer 3.0 allowed at a rate of 900 spectra per second, a lightning fast forwarding the processed spectral data. The extremely low trigger delay of 14 ns jitter and a gate of ± 1 ns enable multichannel applications, that is, a simultaneous use of up to 16 spectrometer modules. These values ​​are currently unmatched by any other spectrometer on the market.

Moreover, the adjustable exposure time, with an accuracy of microseconds, a precise control of the signal-noise ratio. The spectrometer has a mini 2048 element CCD detector. The configuration range is 200 and 1050 nm nm with spectral resolutions of up 0,5 4,0

Thanks to these features, the new platform opens up previously hardly conceivable applications. Typical applications are for example very fast classification and sorting tasks, the analysis of reaction processes and the monitoring of fast processes in production and quality assurance. Also, simultaneous multi-channel multi-point analysis as samples and LIBS are supported.
---
Another contribution of the manufacturer This e-mail address is being protected from spambots! Must be enabled to display JavaScript!