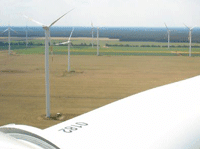 Woelfel presents the concept for an active tuned mass damper to reduce vibrations in wind turbine tower. The absorber "Addtower" increases the damping of the tower, thus reducing the resonance amplitudes of the tower up to 70%. The pendulum is designed as Addtower construction and with a mass of t 7,5 lightweight. The operating principle is based on the right combination of sensor, special controllers, powerful linear drive and oscillating mass.
Thanks to the intelligent control of the governor succeeds in achieving a comparatively small force of only a few kN a massive increase in the damping of the tower. By the active drive and control process is insensitive to changes of the damper of the dynamic characteristics of the wind turbine. Also the mode of operation is broad band, so that multiple resonances can be simultaneously reduced in amplitude.

The Tilgerkonstruktion can easily be adapted to the particular offshore or onshore wind plant and is flexible placement and installation. The Addtower causes, besides the reduction of the vibration amplitudes of the tower, a reduction in dynamic foundation loads (Restraining the tower).
---
Another contribution of the manufacturer This e-mail address is being protected from spambots To display JavaScript must be turned on!