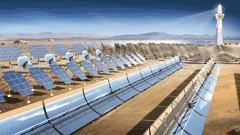 technical articles
Intersolar C2 Hall, Booth 170
Solar thermal or photovoltaic systems work particularly efficient when their mirrors to follow the sun. The more accurate and trouble-free, the more efficient and economical. Rolling and sliding as well as linear units INA, FAG and Elges make this an important contribution. They exhibit a high degree of rigidity and load capacity and enable even under extreme conditions a reliable operation.
---
---
With its broad product portfolio and specific know-how for materials, coatings and gaskets Schaeffler is an important development partner and supplier including in projects for parabolic trough, solar tower, dish-Stirling and Fresnel power plants. Besides standard products and individual solutions for specific customer needs are offered. Depending on the type of power plant construction, and custom rotary joints, tapered roller bearings, ball screws, housing units and ball bearing with ball bearings and drive rollers are as bearing solutions. But bushes, rod bearings and linear guides are used.
Bearings for uniaxial tracking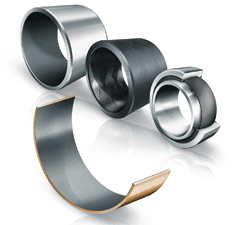 Schaeffler has expanded its range of bearing solutions systematically. In addition to proven for many years maintenance-free bearings with "Elgoglide" product line also includes the metal-polymer composite bearings, plain bearings with "ELGOTEX".
Elgoglide is a sliding layer, which is composed primarily of a technical fabric, consisting of support and Teflon fibers, and a synthetic resin matrix. The benefits of this camp are in their absolute zero maintenance and very high power handling, particularly at high-sided loads and panning.
The special properties of the metal-polymer composite plain bearings resulting from the material combination of plastic and metals. The material allows low-wear sliding characteristics with high load carrying capacity and thermal conductivity. The excellent formability of the material also allows the customer-specific components for various rotary, linear and oscillating movements.
The material used in bearings with ELGOTEX pairing makes these resistant to corrosive media and provides a constant low coefficient of friction and low wear and absolute freedom from maintenance. The material consists of two layers, which are successively wound. Synthetic fibers and PTFE fibers forming the inner sliding layer, which is embedded with fillers and solid lubricants in a resin matrix. The outer layer is composed of continuous glass fibers (glass filament) in epoxy. A specific winding angle of the fibers stabilizes the layer, which increases the strength of the sleeve significantly.
Tapered roller bearings for two-axle tracking systems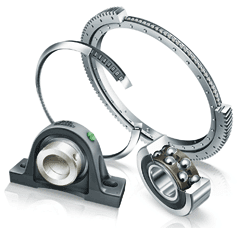 Rolling like AXS angular contact roller bearings, are resulting in Zweiachsnachführungen of solar thermal systems such as solar tower and Stirling dish power plants with the Spielgelverstellung used. High strength and stiffness, as well as precise control accuracy are also crucial. These properties are essential for a safe, quiet and low-vibration mounting of the solar mirrors. Also in this case, the bearings absorb high forces and moments, which are caused by gusts of wind about. The bearings are therefore crucial for the reliability and efficiency of the systems. AXS angular contact roller bearings can be integrated into existing and new designs. They can be mounted very easily and safely. By geometrically identical bearing rings a confusion in the assembly is excluded. Simple, turned bearing seats to accommodate the non-cutting bearing rings manufactured sufficient. The use of special lubricants - here both grease and oil can - the bearing supports have very little maintenance.
Modular system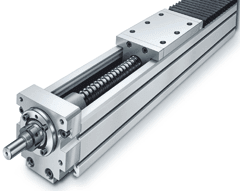 As a system supplier of linear technology division, both for the production of solar collectors and photovoltaic modules as well as for Solarnachführung itself, in addition to a wide range of standard driven, ready to install linear units and custom designed linear modules into complete equipment.
Based on anodized aluminum profiles, the linear units are designed (actuators and tables) on a modular basis and can be fitted to specific application. The stable and rigid body construction is unnecessary in many cases elaborate frames. The compact design facilitates the integration and the establishment in handling and manufacturing equipment for the production of solar panels.
The linear actuators are available as monorail guidance or Spline. It is driven by ball screw drive, belt drive or direct drive. In addition, Schaeffler offers the complete range of Power Transmission Equipment and supplies driven linear units, including the control of assembly and operation as complete systems.
Seal coating and often indispensable
The environmental conditions are particularly demanding on the development and design of bearing arrangements for solar power plants. The environment such as deserts or desert-like regions is mostly of drought, sand dominated, high temperature and severe temperature fluctuations. Therefore, reliable seals are necessary to prevent the penetration of particles into the bearing and keep the high-quality bearing grease in the bearing inside. Special materials and coatings must also protect the bearings from corrosion. With the application of different sealing principles, the choice of different sealing systems, the arrangement of the sealing elements and their combination with each other has a modular Schaeffler seal kit. The surface technology enables both the development work in the laboratory as well as the safe transfer of the production process for mass production. As corrosion protection primarily zinc and its alloys are used. Under the name "Corrotect are "different coatings available, such as zinc (Corrotect CC), zinc-iron (Corrotect ZI) or zinc-nickel (Corrotect ZN).
Also for corrosion protection, but also to support the sliding action of plain and spherical bearings, the sliding (shaft / pin) with chromium oxide (LC layer) on a columnar layer of chromium (Durotect CK +) are provided. This combination of base layer and soft lubricant coating improves both the run-in behavior as well as the friction and wear behavior.
Durability and corrosion resistance are often underrated, but the key criteria for high reliability and long life with low maintenance and high efficiency. Thus, the company offers durable storage solutions with a lifetime of up to 20 years.
---
Another contribution of the manufacturer Calculation Tools Video library This e-mail address is being protected from spambots To display JavaScript must be turned on!