13. August 2012
Hits: 1422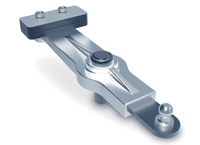 The reduction of the total vehicle weight, and thus the reversal of the weight spiral, one of the fields for optimization potential for reducing fuel consumption and reduction of CO2Emissions. Lightweight thus becomes a fundamental technology for the sustainable mobility of the future. This is true for conventional drives and electric vehicle concepts alike. The new lightweight designs of Schaeffler According to the manufacturer can produce the gearbox weight savings of up to 1,2 kg.
Example synchronous transmission carrier: With synchronous support bodies made of sheet metal allows Schaeffler can achieve a weight saving of up to 25% compared to a conventional, solid sintered metal component. The new two-piece design geometrically compatible sheet metal shells at an optimized design can even higher torques than for sintered components are transmitted.
Example shift forks with a hybrid design: The intelligent composite design is a key to opening up further potential for efficiency in manual transmissions. Shall dispose of, for example, the hybrid shift forks, which can replace the traditional, conventional steel shift forks, a body made of aluminum. Here, the switching is made as highly precise foot plate punched part. During assembly, the switching is in the jaw mounting surface accurately aligned and connected to the shift fork. This allows individual part tolerances remedied selectively. Against also existent aluminum shift forks can be dispensed costly transfusion in the production of hybrid-shift fork. It also eliminates the costly cutting finishing the assembly. The hybrid construction can also be designed compact.
Example Circuit Weight: Even with the shift weights can be - while simultaneously increasing driving comfort - saving weight and space. Conventional switching weights consist of a steel component with a high mass. They are to produce because of inertia and so as to smooth the switching process occurring during the peak forces and vibrations.
There are two weight-optimized solutions. Sun is the shifting weight of a module i ² compared to conventional components by up to 70% lower mass. The lower inertia of the weight control module i ² is however enhanced with the help of a transmission. The core of the switching module is a two-stage planetary transmission, which allows for very high ratios. A slipping clutch relieves the plastic teeth on overload and helps thus durability.
The concept approach in Lightweight switching weight based on the weight distribution, improving the conventional switching weights. By attaching the outer end of the actual mass of the carrier, the light running offered leverage is ideally used. The light beam is made of aluminum or plastic in connection with a lever for switching steely power transmission.
---
Another contribution of the manufacturer This e-mail address is being protected from spambots! Must be enabled to display JavaScript!