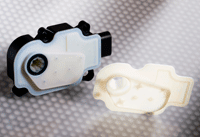 An unusual series application, the "Ultradur LUX found "in an air flap control for automotive applications. The engine developer Precision Motors German Minebea (PM DM) uses the high laser-transparent and therefore easily laser-weldable plastic from the family PBT (polybutylene terephthalate), BASF and uses them to cover his new control module.
The small motor or actuator consists of transmission, electric motor and electronics, controls the dampers of vehicles, enabling improved aerodynamics and lower CO2Emissions.
The air flow for cooling of modern vehicle engines will be controlled in the future and work even more efficiently than before: Portable air flaps or slats behind the grille can be closed by means of the actuator during cold weather and thus contribute to the vehicle's engine is faster to operating. At the same time, the closed slats reduce the driving fast drag. Also in this way can be saved fuel.
The high laser-transparent PBT Ultradur LUX brings not only in electronics and electrical engineering particularly important properties such as stiffness and dimensional stability even in damp conditions. Its central feature is the specially for laser welding vastly improved transparency for near infrared light from 800 to 1100 nm wavelength - just for the area, which is crucial for the laser transmission welding. Due to the increased transparency, the material is laser weld faster than other types of PBT in the market. In addition, the process window is considerably wider and reduces the risk of damaging the material significantly. As used Type Ultradur LUX B4300 G4 is reinforced with glass fibers 20%.
---
Another contribution of the manufacturer
This e-mail address is being protected from spambots! Must be enabled to display JavaScript!