Expertise
Fakuma 5 Hall, Booth 5212
Bruno White, Managing Partner of White Plastics LtdIllertissen
Increasingly in vehicles and mobile machinery metal parts are replaced with sophisticated plastic components and complex assemblies. This saves cost and weight, however, requires a very high production-technical know-how in plastics processing.


---
---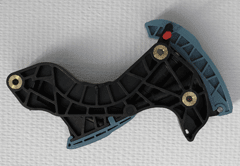 Every gram counts - this is the main motto of the automotive lightweighting. At the same time, the extreme demands of the OEM of durability and reliability are met even under adverse environmental conditions. Of course, the costs also play an important role. Under these circumstances, we make intensive development work to provide the automotive suppliers and manufacturers lightweight components made of highly durable nylon available.
The use of chain tensioners from high-performance plastic is already standard in many modern engines. Even under the very unfavorable conditions, such as engine heat and abrasion caused by the fast moving chain, this well-proven components and contributing to weight savings.
However will affect the production of these components require very high production-technical know-how. The thermally stabilized plastic requires a very narrow processing window and can not be sheared. Partly as metallic components such as threaded bolts can also be processed. Compared to a metal chain tensioner manufactured by us save the component around 30 percent weight, without restriction of function or durability, and at no extra cost.
Based on this experience we have developed a variety of other plastic components with, replace the existing metal structures. This applies for example for the housing of an electronic transmission control system, and for very complex components, which are used in a pneumatic suspension system for commercial vehicles. Here was an existing cast aluminum component as a template, after which the molded part has been developed. The weight saving is around 20 to 30 percent, the cost of housing have been reduced to a third.
Among the current projects that we are pursuing with customers in the automotive industry, including the joint development of sensor housings for automotive and truck chassis and the optimization of crash-resistant body structures by stiffening of 2K (two-component) components. In all cases previously used metal components can be substituted. The manufacturer saves weight, so that the driver saves fuel.
---
This e-mail address is being protected from spambots! Must be enabled to display JavaScript!