16. January 2012
Hits: 908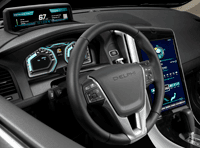 Car Infotainment must be intelligent. It must take into account the security needs while driving and the interaction of the driver - all in one system. With "Connecting with Safety" Delphi controls the drivers safely through the cloud.
Drivers want to fully concentrate on their work, but also the desire of the consumer is to entertainment, information and connectivity around the clock. Under the name "My Fi" systems Delphi offers the driver information and entertainment that he wishes without having to avert your eyes from the road or hands off the wheel. With speech recognition, text-to-speech, large touch screen, configurable displays and sophisticated technology for workload management associated systems filter just the right amount of information to the driver, depending on the traffic situation.
If the vehicle is parked, there is more information available than when driving. In addition, the systems can be connected to sensors and security notice potentially dangerous aspects like leaving the roadway, traffic, and nodding by the driver and make the driver with audible and visual alerts to point out or - if required - brake the vehicle automatically.

Currently, the company presents its latest My Fi functionality: a cloud-based Windows Azure portal with a comprehensive solution for connectivity for drivers and OEM. With Microsoft Azure manages storage resources in the cloud and the distribution of data.
---
Another contribution of the manufacturer
This e-mail address is being protected from spambots! Must be enabled to display JavaScript!