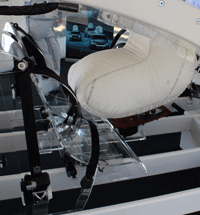 Passenger airbags are usually installed in the dashboard. TRW Automotive has developed a system that is installed instead of the dashboard in the roof of the vehicle. The new airbag provides full protection for the passenger, but saves space in the dashboard. This brings advantages in the design of the vehicle interior, ergonomics and functionality, and also reduces the cost of development. The roof airbag system is a unique solution. Studies have shown that the design not only offers a very good retention performance, but also more freedom in the interior design of future vehicles.
Since the front passenger airbag is not installed in the dashboard longer must provide the new design for reduced development time and also reduces the cost of developing the dashboard. Because the roof airbag, unlike the conventional front passenger airbag has no special access door will be developed in the instrument panel through which the airbag is released to the release.
The airbag unit comprises an airbag and a gas generator, which fills the air bag in the event of a collision with gas. The module is easy to install and also offers the opportunity for standardization as some components are the same for all applications. The system is compatible with a wide range of vehicle architectures.
---
Another contribution of the manufacturer
        This e-mail address is being protected from spambots! Must be enabled to display JavaScript!