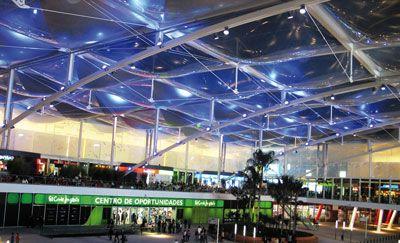 The joint project "Flex-G" sponsored by the BMWI under the research initiative "
Power Building
"Has recently been launched. The aim of the project is the research of technologies for the production of translucent and transparent roofing and façade elements with integrated optoelectronic components. The focus is on a switchable overall energy transmission (g-value) and the integration of flexible solar cells.
Under the leadership of the Fraunhofer Institute for Organic Electronics, Electron Beam and Plasma Technology (FEP), 9 companies, universities and research facilities have joined forces to make a significant contribution to energy saving as well as energy generation in buildings.
Solar modules have long been an integral part of numerous buildings. Even sophisticated energy management systems that use, for example, the waste heat from plants for heating or cooling are well established. Large translucent façade and roofing elements characterize the image of our cities more and more, and provide a great light for a pleasant stay in the buildings. In this case, the material glass is often not flexible enough for the desired degree of shaping and is too heavy for large overstretched surfaces. For this reason, fluoropolymeric materials, such as ethylene tetrafluoroethylene (ETFE), have proven to be an alternative to glass in these applications, not least because of their long life and weather resistance. One example is the roof of the largest shopping center in Europe, "Dolce Vita" in Lisbon, with 5-layered foil pillows made of 200 000 m² ETFE (picture).
In contrast to glass, fluoropolymers are difficult to process in coating processes. For this reason, membrane roofs and façades have hitherto only been able to be equipped with energy-saving functions such as a heat protection coating, integrated solar modules or a switchable overall energy transmission degree to a very limited extent. The use of the membrane roof and façade surfaces for the adaptive optimization of the building 's energy budget was not possible up to now.
The consortium would now like to change this and functionalize the surfaces of membrane roofs and façades with optoelectronic components in such a way as to enable switchable overall energy transmission and energy generation with flexible solar cells. The coordination coordinator, Dr. John Fahlteich, summarizes the project: "Foil-based roof and facade elements are to be equipped with electrochromic, switchable components. Thus, the light and heat permeability can be electrically controlled. The energy for this is provided by flexible, organic solar cells. In the Flex-G project, we would like to develop technologies that can be applied to flexible diaphragm and façade elements and glass-based systems. "
In order to achieve this, the first step is to investigate methods by which the electrochromic component is built directly on an ETFE film. The flexibility of the films allows the use of cost-effective and productive roll-to-roll (R2R) manufacturing processes. Within the framework of the three-year project, an 36 m² large diaphragm gap prototype is planned, which is equipped with electrochromic components for switching the overall energy transmission rate and with flexible, organic solar cells.
---
Another contribution of the manufacturer
This e-mail address is being protected from spambots To display JavaScript must be turned on!