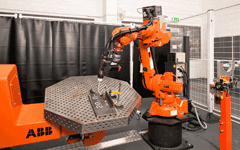 Technical Articles
Hannover Messe Hall 11, as A35
Constant energy is the basis for high quality welding. Especially with complex seam geometries and high welding speeds makes the programs the robot and welding control remains extremely challenging tasks. ABB Automation and SKS Welding Systems have developed a data-communication protocol called "Speed ​​Weld Pac" that translates the signals between the computer and power source in real time and thus connects the systems of communication.
---
---
Differently shaped webs are different tool center point (TCP)-speeds - especially in curves and turning points because of Roboterumorientierungen. In practice, it becomes a very expensive computationally determined for each path point, the energy required for a constant welding parameters.
Translated signals in real time
The data communication protocol speed Weld Pac translates the signals between the computer and the power source in real time. It establishes a communication technology intimate connection between the two systems. In the "married" total system learns the control of the current source, for example, the actual speed of the TCP of the robot, and with this information regulates their parameters. Despite different speeds, accelerations and decelerations, this partnership is a constant heat input. Initial positive experience collect currently leading companies in the automotive industry and its system partners.
Thin-walled sheets of high strength steels
The two companies offer the user with the merging of the two components of the robot and power source is a complete solution for demanding automated welding. This applies especially for thin sheets of high-strength fine-grain or duplex stainless steel. Arc welding processes with reduced heat input and constant heat input to achieve this quality and economically optimal results. This assumes the task suitable for welding parameters defined current, voltage, welding and wire feed speed. Run the joint contours in geometric paths that change their direction and deviate significantly from the straight line, varying the speed of the burner-TCP on the robot arm and thus the welding speed. For ensuring a constant energy per unit length, the control of the current source adjusts now the other parameters. And this for each path point.
Speed-dependent control parameters
The control of the robot is determined through its axial movements, the actual speed of the TCP directly. About Speed ​​Weld Pac communicate the controls of the robot, and the power source. Therefore, the control of the welding parameters depending on the speed control the system so that the energy per unit length is constant. This results in a constant penetration, uniform seam geometry and optics.
Because the system also uses existing welding programs, eliminates additional programming. All current values, the user can see on the monitor of the SKS welding control, in addition, they are documented by default. Speed ​​Weld Pac features a user-friendly interface, which dispenses with cumbersome groping. In addition, the user is supported in the visual analysis of the welding results.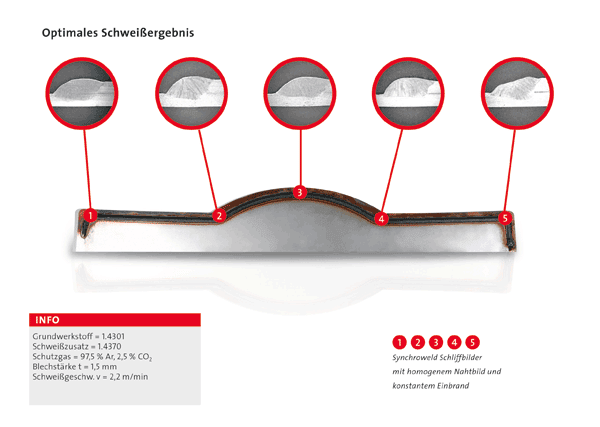 ---
Another contribution of the manufacturer This e-mail address is being protected from spambots! Must be enabled to display JavaScript!