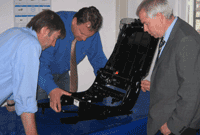 Given the trend toward lightweight construction in the automotive industry, the automotive division of Hetal-Werke worked intensively with alternatives to conventional joining techniques. Will in future instead of the previously used welding studs ATP TriPress Arnold be used. This Einpressbolzen has the specifications of specialists for kinematic subassemblies and hinges in passenger seating area.
"The expected use of lightweight materials such as magnesium, fiber composites such as carbon fiber or high-strength steels in automotive requires connectivity solutions that ideally better connection quality at a lower cost supply," said Reinhard Gruber, Sales Manager of the Automotive Division of Hetal works. The triangular Einpressbolzen "TriPress" creates these Kosten-/Nutzen-Spagat. This is a polygonal quick binder system which can be pressed into plastics and light metals.
The cost reduction is realized through the process. The number of manufacturing steps is reduced radically opposite the welding variant, which shortens the processing time. The shaft and the triangular paraxial knurled enables high turning the insoluble compound, such as seat track adapters. Rotating locking grooves on the shaft ensure a high pull-out strength.
The waiver of thermal stresses resulting from the welding variant reduces the cost for materials testing and relieves this alone cost position by around 50%. Environmental impacts such as noise or fumes eliminated, as are the associated protective measures. In addition, the share of the Committee is in production permanently reduced due to the purely mechanical processing.
Experience using TriPress have potential for cost reduction of around 80% by comparison with the use of weld studs. Same time, the quality of the connection and allows for fast and efficient installation of different materials.
---
Another contribution of the manufacturer
This e-mail address is being protected from spambots! Must be enabled to display JavaScript!