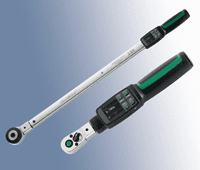 Control Hall 7, 7316 Stand
In the new Manoskop 714 united Stahlwille the benefits of its electromechanical torque wrench and its precise angle tools with a comfortable software solution for configuration and user management. Both in initiating and in operation, indicating the tightening process each screwdriving be chosen from a combination of torque and / or angle detection.
Optionally, there is an indication to the peak value. Each operating mode, the user has to the four modes torque, angle, torque-angle, angle-torque.
The configuration of the tool is done in software Sensomaster. Up to bolting in 200 maximum 25 schedules are programmable. For each hard joints 2500 rundowns are stored. User-specific access levels allow for different application scenarios. The data exchange with the PC via a standard USB interface.
Realized Schraubfalldaten are displayed in high-resolution, self-luminous display and can be evaluated immediately. Upon reaching a predetermined warning threshold, the display color changes to yellow. Green indicates a release of the tool in the specified tolerance range, and in addition by a perceptible tactile and / or audible signal for the user. The risk for covering a specified value (red signal) is minimized. Two sides of the tool mounted LEDs to work to support in any position, even if the direct view of the display is not possible. The same principle prevents overloading the tool.
The torque / angle wrench is initially available from September 2012 for ranges of up 1 400 Nm Nm in seven sizes.
---
Another contribution of the manufacturer
This e-mail address is being protected from spambots To display JavaScript must be turned on!