08. February 2011
Hits: 2841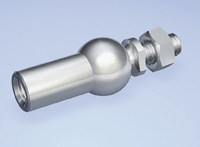 Angle joints DIN 71802 %dienen als Verbindungs- und Führungselemente für bewegliche Teile und schaffen Eckverbindungen. Nicht immer sind diese Normteile für die Konstruktion ausreichend, insbesondere dann, wenn die Kraftübertragung linear erfolgen soll. Speziell für diesen Anwendungsfall konzipiert stellt das Axialgelenk von MBO Oßwald eine besondere Lösung im Bereich der Winkelgelenke nach DIN 71802 dar.
The implementation of the forces are not at an angle of 90 ° but as 180 ° model, linearly. The possible pivot angle is comparable to DIN 71802 18 at ± °, the pull-out forces of the ball stud from the cup, depending on size between min. 30 and min. 100 N. The axial joints are available in dimensions up M5 M16 in steel and stainless steel.
To the design to give further scope for the specialist mbo Osswald has developed another variant not removable. Axial these are capable of absorbing very high loading forces. eiterhin is possible to develop application-specific special solutions and implement them.
---
Another contribution of the manufacturer This e-mail address is being protected from spambots! Must be enabled to display JavaScript!