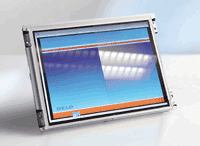 The optically transparent Adhesives by Delo allow for better readability of displays in direct sunlight and increase the mechanical stability. By direct bonding of the cover glass with a refractive index matched adhesive on the LCD reflections from the environment and unwanted reflections can be significantly reduced.
Adhesive properties such as extreme softness and high optical transparency combined with good adhesion and resistance to yellowing. For the first time we have succeeded to combine these characteristics with a new chemistry that allows a cure in shadowed areas. With the help of the light curing displays are processed quickly and makes short cycle times. Subsequently curing the adhesive via a reaction with humidity. The means for the customer that the parts post cure at room temperature and no further curing step is needed. By bonding the display is more durable and the vibration and shock resistance increases.
Typical applications include large display bondings in industrial applications as well as in the automotive and aircraft industry.
---
Another contribution of the manufacturer
This e-mail address is being protected from spambots! Must be enabled to display JavaScript!