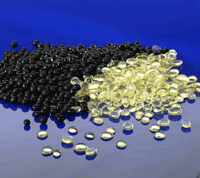 Henkel presents its brand "Macromelt" melt adhesives on the basis of polyamide. These are injection molded at a pressure of about 40 and processed 230 temperatures ° C. This prevents damage to sensitive electronic components and enables the use of less expensive molds made of aluminum instead of steel. After one minute, the potting compound is cured and the components can be further processed.
The hot component adhesives Macromelt 6er series cover a wider temperature window than current melt adhesives. They are mainly for the plug-and Tüllenverguss used for sealing and strain relief for the cable. They are suitable for applications where the casting takes over tasks simultaneously housing - such as PCBs, which must be protected from moisture, mechanical stresses or corrosive substances such as acid or oil. The hot melt adhesives are also suitable for the encapsulation of larger components: tension cracks occur not with them. They adhere very well to polar plastics such as PA, PBT and PVC and also convince from an ecological perspective. They are prepared on the basis of renewable raw materials and are therefore completely biodegradable. In addition to the processing solvents or other pollutants can be released.
Through its plastic-like properties can Macromelt OM 676 be used as substitutes for plastic housing. The adhesive protects the electronics from the environment and is flexible even at low temperatures. Temperature extremes between-50 ° and + ° C 140 he holds any problems. Macromelt OM 676 is ideal for electrical and electronic components such as connectors, circuit boards and sensors.
Macromelt OM 653 is the first polyamide hot-melt adhesive having a high resistance to moisture and therefore the 85 / 85 test consists of: Even after 1000 h at a temperature of 85 ° C and a relative humidity of 85% remain its mechanical values ​​constant . Unlike other polyamide hotmelts it is not to reduce the mechanical properties. The adhesive is suitable for electronics, which is exposed to temperatures between-40 ° and + 100 ° C - as printed circuit boards, sensors, controls or electronic components.
With Macromelt OM 6208S there is the first polyamide hot melt adhesive on the market, which is listed in the relative thermal index (RTI). Tests confirm the improved performance record of making thermal aging resistance: At a constant temperature of 95 ° C Macromelt OM 6208S shows after 100.000 h reliable performance in tensile strength and elongation.
In live shows visitors the Henkel booth in Hall 106 B3 be able to convince yourself personally of the advantages of the encapsulation of electronic components. Encapsulation of LED lights and the installation of electrical components such as motors and magnets are also topics of the exhibition stand at productronica 2011.
---
Another contribution of the manufacturer This e-mail address is being protected from spambots To display JavaScript must be turned on!