22. August 2012
Hits: 1361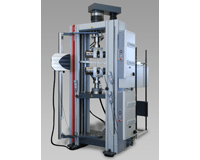 With Torsion in almost all sectors of the industry angle measurements are carried out over a defined torque range of materials and components. Key parameters are torque, resolution and repeatability. For the different requirements of various testing machines Zwick: "Torsion Line", "Zwicki twist", and table / floor standing with torsion.
All Torsionslösungen build on Zwick standard load frame. They offer a high degree of flexibility, since the machines can be used with all available standard tools and software modules. In addition an extensive optional accessories. The torsion line with maintenance free AC servo drives and horizontal test axis is designed for 20, 200, 500, 1000 and 2000 Nm. Delivering the highest levels of stiffness and ensures a very precise angle measurement over the entire torque range. Due to the high resolution results in a high repeatability.
For one-and two-axis torsion (train or pressure combined with torsion) in the material and component testing, there are also associated with the torsion Zwicki-Line materials testing. This combination, in both test axes can be synchronized via software allows testing of 2 to 20 Nm. Another solution is the integration of torsion drives in desktop and floor standing for torques of up 2 200 Nm, respectively 100 to 2000 Nm. The torsion can be mounted both on the head cross-member as well as on the moving crosshead. If necessary, the torque can also be combined with a force transducer. In all these machines the torsion is supported by the measurement, control and regulation electronics "Test Control".
Typical products for torsion tests in medicine are insulin pens, implants, bone screws and luer lock cone (socket system for hose systems). In the automotive sector, the use of rotary switches via coupling elements sufficient to drive shafts.
---
Another contribution of the manufacturer This e-mail address is being protected from spambots! Must be enabled to display JavaScript!