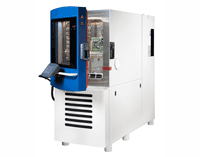 Sensor + Test 11 Hall, Booth 316
With the methods employed in the electronics industry, Environmental Stress Screening (ESS) can already during the production of a product hidden or emerging vulnerabilities in materials, design and production are revealed. White presents this technique, the Test cabinet series WT / WK the same in a wide selection of options.
The quality and reliability of technical systems can be considerably improved by environmental simulation testing. The environmental stress screening thus serves the deliberate provocation of early failure. It is important to achieve the selected pretreatment not the mechanical or thermal stress limits of the design or of individual components or to let pass even. Here fatigue processes are accelerating or causing fractures. While the ESS testing to selected environmental conditions in the shortest time maximum defect is discovered. ESS focuses on the production and not to the use of the product.
The test chamber series WT / WK includes over 70 variants that map with their extensive range of options with the requirements of the examination. Additional requirements will be implemented according to the customer as a special solution in many cases.
In the standard model with a test space of cabinets stand up 190 1540 l available. The temperature ranges from-70 180 ° to + ° C. The test chambers have very high rates of change of temperature, which are between 5 to 25 K / min (on request up 35 K / min) and can be selected to allow only a climatic 5 min trip across the entire planet, from the Arctic to the Sahara. The standard version has a controlled humidity of 10 ... 98% r. F. for climatic tests.
---
Another contribution of the manufacturer
This e-mail address is being protected from spambots To display JavaScript must be turned on!