30. August 2012
Hits: 1188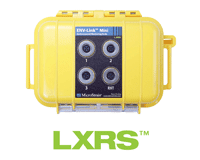 CSE provides the ENV-Link Mini LXRS a wireless 2,4 GHz measurement module for continuously sensing of environmental data in the open before. The unit offers a digital input for a combined sensor for relative humidity and temperature and 3 additional inputs for analogue sensors.
This may, for example sensors for light quantity, soil moisture, leaf wetness, rainfall, wind speed, wind direction, water level, pressure, conductivity, temperature or strain. Several EPS links can in a radius of up to 2 km of the WSDA - Gateway can be used.
The data is either stored locally or forwarded to a gateway in the cloud server on the Internet. This secure server provides analysis tools, scripting, programmable alarms and global data download. Long-lasting AA batteries (alkaline or Li-Ion) provide a long-term unattended data acquisition. The focus of the LXRS wireless sensor networks are the WSDA gateways. These gateways collect data over the radio nodes and the microstrain 2,4GHz provide protocol real-time clocks of all wireless nodes. The WSDA gateways also coordinate data collection with the wirelessly connected sensor nodes. With the supplied Node Commander software allows the user to configure the network and start eg the synchronous capture or burst mode sampling.
---
Another contribution of the manufacturer
This e-mail address is being protected from spambots! Must be enabled to display JavaScript!