26. August 2012
Hits: 1805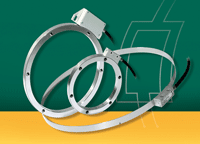 AMB Hall 1 as I78
Just environments that require precise measurements, make it the measuring systems often difficult: vibration, magnetic fields and finally contamination can impair many instruments. AMO has developed with his induction for a rugged, high-precision measurement system. This can be particularly associated with direct drives easily integrate into the design.
Recently, the sinusoidal output signals are output 1Vss with a period length of 40μm corresponding 18.000 pulses / revolution with an outer diameter of only 230 mm.
Photolithographically etched the tape in conjunction with the electronics reaches a signal quality that is comparable with the opto-electronic systems. Unlike the latter, however, the steel tape measure without costly enclosures sitting right next to the rotor or stator. Neither grease and dirt can interfere with the measurement. Optionally, a 0,6 mm thinner measuring ring for indoor or outdoor sampling fitted by the customer or are spot welded from manufacturer to a prepared client part. Thus adapts to the measuring system of the application and not the other way around.
The compact integration of the inductive measuring system offers space savings, contingent the lower mass low moment of inertia and a rigid construction. Without mechanical couplings to the encoder system, there are also no annoying backlash or elasticity, which reduce the accuracy.
Direct drives offer advantages in addition to the dynamics and precision also potential for the optimization of a machine design. Ideally, the annular torque motor constructed is combined with an annular measuring system. Thus, in the center, a large hollow shaft, which can be used in machine tables, rotary axes and angle milling for example, clamping systems, as the hydraulic and electrical conduit.
---
Another contribution of the manufacturer
This e-mail address is being protected from spambots! Must be enabled to display JavaScript!