14. August 2012
Hits: 1133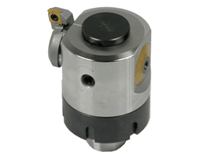 The universal boring "Vario Head" Swiss Tool Systems is flexible and universal for a boring range from three to 152 mm. Together with matching accessories, users can thus cover a wide range of applications. The new Monobloc boring head is compatible with a standard ER collet chuck and features a stiff, centered connection. The product is also suitable for back boring.
An easy-to-use screw ensures rapid setting and a cone-face contact, which ensures a stable connection similar HSK.
88 mm diameter up to the appropriate drilling rods supplied by the vendor. This can be due to the smart "push thru" technology in length adjusted continuously. Head Vario bars can be adjusted exactly to the hole depth and create optimal Zerspanungsverhältnisse. Furthermore, can the Ausspindelkopf with insert holders for 152 mm diameter to fit. From 88 mm diameter can be used with the Vario head for back boring. For this, the insert holders are simply mounted reversed. An additional adapter is not necessary. The robust connection offers primarily imbalances better and more accurate results.
The adjustment of the diameter is a large, easy to read scale. The setting accuracy is 0,01 mm in diameter mm with vernier 0,002. Head of the Vario can be used with internal cooling. Thus, even with larger diameters, the ventilation is provided to the cutting edge, can be used for the passage of coolant simply insert a matching connector.
---
Another contribution of the manufacturer This e-mail address is being protected from spambots! Must be enabled to display JavaScript!