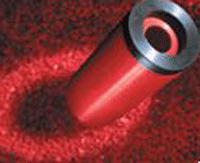 SKF presents its "sealing solutions from SKF" among others with tailored large seals for use in modern press systems as well as comprehensive services for a complete cylinder. Both offerings are designed to increase the productivity of sheet metal working machines by reducing maintenance costs, extended maintenance intervals and downtime can be reduced.
For large seals in the area of ​​250 to over 600 mm diameter is X-slides or Composite seals with sliding ring and an elastomeric clamping expander, made from the Ecopur-family of materials having a hardness level of 54 to 60 Shore D. Unlike PTFE solutions can X-Slides from Ecopur be installed using snap-in mounting. An additional recalibration eliminated, making the cylinder assembly and particularly in maintenance costs can be saved. Moreover Ecopur seals show considerably more robust than sealing elements made of PTFE with respect to damage during installation if they are pushed over the edges of the housings.
Especially on poorly lubricating media has GS Ecopur over a much improved wear resistance and sliding properties that provide for water and air service for a lower heat generation. Because of its hardness with 95 Shore A and incorporated Gleit-/Schmierstoffen the material withstands mechanical loads due to high clock speeds and is ideal for hydraulic cylinder seals with a diameter of up 540 4000 mm. For smaller diameters, we recommend the materials the S-Ecopur series, in the hardening stage with about 95 Shore A or in the harder X-type with 57 to 60 Shore D. For sealing tasks in clutch-brake systems of Kurbelexzenterpressen suitable Standard -Ecopur due to its very good sliding properties and increased hardness level.
All seals can be produced in larger quantities and at diameters up 1 000 mm by injection. Using the finite element analysis (FEA) to optimize the design, detail and seal geometry sealing solutions can be found for the most demanding applications and operating conditions, for example, to reduce the number of maintenance cycles. Replacement seals can be welded polyurethane on site, can thereby reduce downtime significantly.
Large volume moldings made of elastic materials such as profile elements or wear plates are combined in a cost method PU casting and Seal made jet technology without die costs. In addition to custom and standardized sealing elements include sealing solutions from SKF, the complete repair and optimization of hydraulic cylinders. Our own design department makes it possible to exchange cylinders to make some for Erstreparaturen.
---
Statement Another contribution of the manufacturer This e-mail address is being protected from spambots! Must be enabled to display JavaScript!