21. August 2012
Hits: 1701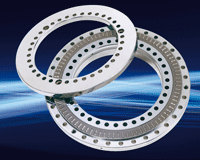 AMB Hall 4 stand D34
Is due to the wide selection of roller bearings Rodriguez for the most demanding applications such as machine tools, the steel and metal or paper industry a solution. The standard versions of the warehouse are also small quantities at short notice. To the fair, the company presents RTB, SRB and XRB-bearing.
The high precision bidirectional axial-precision cylindrical roller bearings (Rotary Table Bearings = RTB stock) By Rodriguez characterized by high axial and radial loads as well as an excellent tilting stiffness. They are therefore ideal for use in rotary, rotary and positioning tables and heads for machining purposes. The ready, compact combination bearings consist of two axial and radial bearings. The large number of roles in the axial cages, the linear contact of the rolling elements and the precise workmanship of bearings guarantee the typical for this type of bearing high precision and kippsteife behavior.
The stock of the SRB series consist of a radial needle roller bearings with a solid inner and an extended inner ring. The side surfaces of the outer ring act as rails for the two axial roller cages, which are centered on the inner ring. This construction results in a low overall level of precision bearings and high rigidity. All SRB bearing designs have been specially developed as a radial-axial support for ball screws of machine tools. A nut ensures the defined bias and thus maximum rigidity.
XRB-Crossed layers are the ideal solution when space is limited and / or flexible constructions are required. A compact design and the capacity to move high axial loads in both directions, combined with radial loads and high tilting moments. Therefore XRB-bearing mainly round and rotary tables, spindles used with horizontal and vertical axis as well as robotic arms. All Crossed roller bearings are mainly according to customer designed and manufactured.
---
Another contribution of the manufacturer
CAD data
This e-mail address is being protected from spambots! Must be enabled to display JavaScript!