technical articles
Schaeffler Last year logged 1832 patents in Germany and so that as many as never before. In particular, ensure the "unique selling points" bearings and other product innovations for applications in the fields of renewable energy and electric vehicles. The contribution represents a small selection of applications
---
---
The German Patent and Trademark Office published its annual statistics 50 innovative companies in Germany. This allowed the company to increase year on year the number of patents filed by 11,6% and covered again in fourth place behind Bosch, Daimler and Siemens.
Bearing lubricated by seawater
The Industrial Division is one of the research areas in renewable energy. These also include bearings, which are operated in sea water, for example, in flow or wave power plants. To the high corrosion rate of salt water is added difficulty in these cases that are dispensed with oil or grease as possible to lubricate the bearings should. Instead, they should be "lubricated" with the ambient medium seawater. One speaks of media-lubricated bearings.
Crankset with integrated torque sensor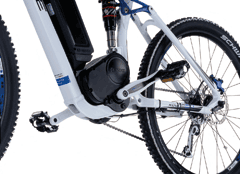 The market for electric bicycles with auxiliary propulsion developed most dynamically. The customer expects from an e-bike that electrical support functions smoothly and without noticeable especially to and shutdown. Such a function requires a very fast, accurate detection of the pedal force applied by the driver. This request is a crankset with integrated torque sensor meets, which was successfully placed on the market. A particular challenge represents the integration of storage and torque sensors including evaluation within the limited space available and the limited cost frame
Centrifugal Pendulum Vibration solves problems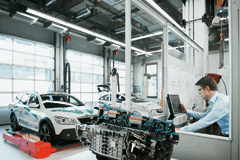 Downsizing and downspeeding are two approaches to reduce fuel consumption in the engine significantly. How the trend towards engines with lower fuel tonnage. This, however, results in a stronger vibration behavior, which in turn makes new concepts necessary damping. Here the centrifugal pendulum is a key technology to cope with the vibration problems at low speeds. Schaeffler's engineers have been researching intensively for years and are currently at the centrifugal pendulum with 146 patent families in the race. As the automobile manufacturers will seek motors with even higher torque at lower rpm, the specialists already working on other new damping concepts.
Concept vehicle and systems company e-mobility
When it comes to electric vehicles, there are the "Active e-Drive" a concept vehicle for electric mobility. It is a pure electric vehicle, wherein the active electric differentials (e-differentials) allow active torque distribution. The e-differential is well suited for modern hybrids. To the many activities of the two divisions bundle regarding electric mobility - from Sensortretlager about hybrid vehicle components to the renewable energy sector - and to exploit synergies, was founded last year, the systems house "e-mobility".
---
Another contribution of the manufacturer Webcast This e-mail address is being protected from spambots To display JavaScript must be turned on!