cover story
The phrase "sheep dung'm doing" is intended to show that even with small or relatively unimportant things appearing in the sum something comes together. In mechanical engineering, it shows especially in view of the many small components that are required for a machine or system. Our title report shows a practical example in special machine to which it is total and what options are available to minimize them.


---
---
So also in the southeastern Hunsrück resident Hahn Automation GmbH, the manufacturer of special machines developed innovative, effective solutions for the automation of production processes. What claims to be as small ideas and began experimental workshop in 1992, today is a global company with locations in Germany in Rheinböllen Reinheim offices in Cincinnati (USA), San Jose (Costa Rica), Istanbul (Turkey) and Schwarzburg ( Switzerland).
The cell as a basic unit
Robot, testing and camera technology, assembly and temperature control and cooling technology are the core competencies. For all developments is the company's philosophy to bear: everything from one source - from concept to implementation to after-sales service. Figurehead for the Automation Systems business area is the cell concept "master cell" with a particularly wide range of uses. Both automated individual workstations (with a manual loading) and combined models are available as a technologically sophisticated automation systems. For use as a single workstation, each cell is equipped with its own control and a separate control panel. In addition to a rigid connection to a wide variety of workpiece carrier transfer systems are used to link the master Cells. The modular design allows for quick, responsive and economic expansion with increasing production rates. Featuring advanced robot systems and advanced technologies in the assembly and testing through the most demanding processes are realized. In addition, the cells may arise from changes in production simply be moved from machine to machine.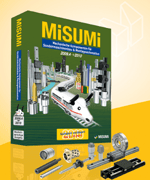 "Whether the automated production of engine mounts for a client in the automotive industry or door hinges with integrated dampening system for a supplier of kitchen cabinets - we provide solutions for very individual problems," explains Torben Fibich, Head of Communications and Marketing at Hahn. Some customers have already initial ideas regarding the implementation, but usually become a part shown and then said "construction 'me a machine that can". So it was at the door hinges with cushion. For this purpose, an appropriate machine concept has been developed together with the customer specifies, implemented in the design and finally simulates the operation of the system by computer graphic animation. It is followed by manufacturing, assembly, test run and ultimately site commissioning and training of the staff working on the machine on site.
Small parts in practical bandwidth
The deliverable in kundenindividuellem Design Master Cell concepts have not only high availability of flexible degrees of automation and ease of handling and operation of its short lead times and high cost. In order to realize this, they have a standard cell and control structure. This "basic" then gets the process-specific cut. Therefore numerous mechanical components are used, which must be also usually adapted to the design. "We have our own production in the house," said Fibich. "This can not cover everything, especially not when it has to be fast." But still a high quality standard will be placed on the components, is on tap with the cooperation Misumi Europe. The portfolio that specializes in mechanical standard, purchased and custom parts including over one million articles, thus covering virtually every conceivable need in the construction of action. The special feature of the offer is the configurability of components: With extensive options in shape and dimensions to the standard components are adjusted according to the particular purpose exactly. This is not only beneficial for new developments, but also, if a machine can be converted to changes in production needs, for example, to adapt to new product forms. Add various design options come in terms of materials, hardness and surface treatment. Designers therefore profit from a practical range. This diversity can hardly afford a make economically, the delivery times of Misumi are almost always shorter than the production on their own. Since also believe the quality of the components, Hahn served now very widely in this offering.
"The concept fits well with our Master Cells," says Torben Fibich: "It is also modular, intelligent and cost-effective." For agree the conditions in respect of the mechanical components. Especially in special machine components are required in very small quantities, so often have minimum order quantities or a minimum value of goods or minimum order charges connected. These "costs" would make the product and make cost-effective designs. Therefore, there are user-friendly reference conditions: Delivery from quantity 1 themselves individually configured in execution, with no minimum purchase or surcharge for small quantities; fall within Germany also at no shipping costs.
---
Another contribution of the manufacturer Webcast Online product catalogs Order Catalog This e-mail address is being protected from spambots To display JavaScript must be turned on!