13. August 2012
Hits: 2042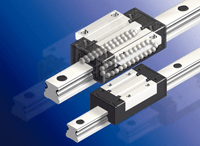 Motek Hall 5 stand 5538
Dr. Tretter presents its extensive product range of machine elements. A particular focus recirculating ball bearings form of aluminum. These can be compared to models of steel in certain applications, the much more profitable solution.
They are used when the user at the cost and weight savings counts - for example, in light engineering, with easy handling and positioning movements or for moving elements in the building. These aluminum Tours of the steel inserts highly resilient and also around 60% lighter than equivalent steel versions.
High-precision driving elements for transmitting torque are the Torque ball bushingsThat simultaneous translation movement in confined spaces find space. For use with this drive element is the rolling element ball that performs the transfer between the ball socket and the shaft with ground grooves. Torque-ball bushings find similar use as splines. However, they have the advantages that they can be adjusted free of play over the ball size, and over a corresponding bias can increase their stiffness.
The miniature guides Dealers are as a complete guide (carriage and rail) from size 3 stock. From size 7 car and rail are also available individually, for greater lateral moments in a wide version. With particularly high requirements for running are, the miniature roller tables. The compact axis series "Monocarrier" provides an easy way to precise guiding and feeding movements. They are available in the standard version and MCM as highly rigid type MCH. Standardized aluminum shafts with toothed belt or ball screw from EL.MORE or solutions such as NSK-rail guides, roller guides with measuring system, C-rail systems, ball transfer units, or the tolerance sleeves complete the portfolio.
---
Another contribution of the manufacturer CAD data This e-mail address is being protected from spambots! Must be enabled to display JavaScript!