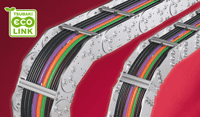 Conventional energy guides quickly fall in steel mills, foundries and blasting operations at the breaking point. The optimized geometry of the chain Cable carriers "Steel-Line"S / S SX1252B and / SX1802B of Tsubaki Kabelschlepp prevents downtime and costly maintenance time due to the prevailing harsh environmental conditions.
Foundry sand, corundum and scale are the natural enemies of any energy management. They occur in metal production and processing in large quantities and can stop the system of conventional power chains block quickly. The Cable carriers S / SX1252B and S / SX1802B suitable for use in environments with very high volume of fine, abrasive media. Both versions are available in steel (S) and stainless steel (SX) and like all steel cable carriers of the company they are lubrication-free. The cable carriers Steel-Line S / S SX1252B and / SX1802B are awarded the Eco-Link predicate and meet the strict environmental standards of the Tsubaki Group.
The optimized design provides dirt and debris no more possibilities to permanently stop accumulating in the system and affect the function of the energy supply. Foreign body in the method of the cable less "self-cleaning" away from the stop system. Since no deposits can form in the stroke system, blockages of the leadership is avoided. Depending on the application there are either bolted or riveted connections are used.
With sustainable temperature loads up to 600 ° C the steel cable carriers to the extreme heat in steel mills and foundries are fully grown. To protect the cables laid against external influences, the two cable carriers fitted with optional stainless steel strip covers. Different web versions allow a tailored adaptation to the conduits. This allows, for example, the aluminum perforated webs of type LG equipped with individual Bohrmustern. For particularly heavy loads or large chain widths and the massive four-bolted frame bridges of the type RM can be used.
---
Another contribution of the manufacturer CAD data Energy Chain Configurator This e-mail address is being protected from spambots! Must be enabled to display JavaScript!