24. August 2012
Hits: 2263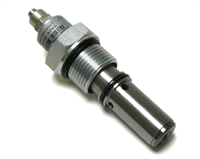 AMB Hall 4 stand E40
To supply the hydraulic bearing with grease, for example by heavy drive spindles in machine tools, SKF has under the name SRV developed a new valve that controls the flow more effectively. With approximately SRV04 can select the flow rate in comparison to the flow limiter and between 0,1 5 l / min.
The integrated valve allows a stable flow within the operating limits, also vary if the pressure or the viscosity of the lubricant, such as by temperature influences. The cartridge style of SRV makes installation in the distribution blocks. Its radial inflow is located on the screw, the axial or radial flow behind the sealing ring. The ability to adjust the volume flow much easier. This special feature distinguishes the patent pending valve of conventional products, in which the flow direction is opposite.
The new SRV builds with M24 x 1,5 also more compact than previous models and is suitable for operating pressures between 10 150 and bar applications. Further SRV versions to volume flows to 0,01 0,5 and between 0,5 25 to l / min to control are provided. Additional phases are flow control valves with and without supervision with electronic monitoring, and adjustment with independent control as possible variants in the investigation.
---
Another contribution of the manufacturer
This e-mail address is being protected from spambots! Must be enabled to display JavaScript!