10. August 2012
Hits: 1456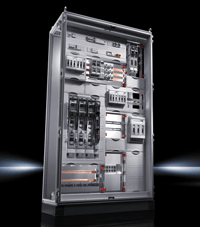 Distribution (ISV) are key components of the electrical infrastructure in buildings, data centers and industrial facilities. From there, the user is supplied with electrical power for low voltage applications. Rittal offers with its new distribution boards from the modular system "Ri4 Power" montage efficient solutions. By high degrees of protection, the new development is particularly suitable for use in harsh environments.
In a Distribution must depend on the type of consumers can accommodate different components. Typical examples include switching and protection devices, terminals, mounting fuse bases or NH isolators. To fit all the required components can expand the system should be designed to be very flexible and allow for easy and efficient installation. The ISV can be used both as a stand-runners as well as wall-mounted distribution and are characterized by a wide variety of housing options available to. Also the use in harsh environments is possible.
The ISV based on the Standard cabinet TS 8 and the housing wall AE. So can choose from the standard range of both stainless steel and painted steel housing. The required protection is provided by IP 55 at the TS 8 cabinets and up to IP 66 at the AE cases.
To install the required components can be special built-in modules are available. Also for NH fuse switch disconnectors of size NH 00 to NH 3 appropriate expansion modules are available. With the new circuit breaker modules, the current switching devices from ABB, Eaton, Schneider Electric and Siemens to 630A install with only two different module sizes.
---
Another contribution of the manufacturer
This e-mail address is being protected from spambots! Must be enabled to display JavaScript!