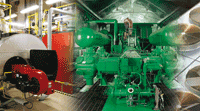 Mitsubishi Electric represents the "Energy Control Pack" (ECP) as a solution for a stable power supply in the production. Using the ECP can be collected numerous energy-related information in the automation systems and visualize. The data provide an accurate overview of the energy consumption of individual machines or drives. Based thereon, units that are not needed urgently off. Corresponding information flows as inference in the production planning.
Energy management is not only relevant for the discrete manufacturing. Power shortages at critical points of the batch processes can cause a loss of the entire batch. In some cases can even be damaged or stop production. Christoph Behler, Senior Business Development Manager at Mitsubishi Electric Europe BV, explains: "One could fault the energy supply in the combustion process in a sintered metal factory, for example, destroy a whole lot or even the system. In the food processing whole batch would be destroyed if a power failure caused data is not recorded. An integrated and holistic energy management approach like that of the ECP provides for existing or new facilities is fundamental in the process industry, therefore. "When monitoring tool supports the ECP in the system and thus to the production safety.
The information that the ECP provides the local operator panel, is stored in databases and transferred to higher-level information systems. This allows to determine, among other things, the energy cost per unit of production or machine and control and avoid peak loads. Even plants for renewable energy or other energy-related media such as air, gas, oil and water can be incorporated into the system. The ECP provides the prerequisite for optimizing all levels gradually to increase production efficiency and reduce maintenance and repair costs.
Users have been able to achieve peak load reduction by eight to 30% and a reduction in energy costs by five to 15%. On average, the peak load was reduced by 13%. On average, the payback period of the ECP is ten to eleven months. There are three different versions of the ECP complex reason: In the simplest version ECP Compact round 80% of the functions determines approximately 20% are freely definable. The second release ECP Modular consists of single, individually combinable function blocks. The most complex system ECP is open, tailored and adapted by the developers on the basis of a feasibility study on the use case.
---
Another contribution of the manufacturer This e-mail address is being protected from spambots To display JavaScript must be turned on!