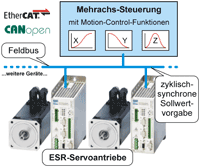 The "Interpolated Position Mode" made a beginning: With cyclically-synchronous reference input to approach today is not only coordinated positions, but also speeds and torques synced across multiple axes of time in milliseconds. The Servo-families "TrioDrive D / xS" and "MidiDrive D / xS"ESR Pollmeier offer this open three additional modes for the connection via EtherCAT or CAN.
In Interpolated Position Mode via the fieldbus at regular intervals position values ​​are transmitted to the servo drive this fine interpolation in time of the position controller. This allows multiple axes synchronized and precise trajectories are driven. The Drive Specialist provides this mode for many years in its digital servo drives with EtherCAT or CAN open interface.
The real-time capability of rapid fieldbuses further opportunities. With the servo controllers TrioDrive D / xS and MidiDrive D / xS the latest generation can now selectively target positions, speeds or torque setpoints cyclically transmitted synchronously. This is useful in conjunction with controllers, responsible for the control tasks across multiple axes of time itself. The transfer of the target values, and optional offset and tax values ​​occur simultaneously at fixed intervals on all drives, typically every 1 to 4 ms. In this way can be implemented motion control applications where it depends on the precise interaction of the individual axes.
The operating modes are based on IEC-61800 7-2 and the CAN open-CiA 402. In the cyclically-synchronous position mode provides an intelligent set-point processing in the servo controller that an "overflow" not to jump into the movement. Allowing endless axes to position only in one direction. Based on the Triodrive-D/xS- Mididrive-D/xS-Servoregler and manufacturers will establish individual drive systems in the torque range of up 0,5 160 Nm - with direct drive gearboxes or even much higher.
---
Another contribution of the manufacturer
This e-mail address is being protected from spambots! Must be enabled to display JavaScript!